Add a QR Code to Your Business Cards
A recent HEROweb Marketing Bite introduced the topic of
QR codes
and included some free QR code generators. Just to recap, QR codes are square, barcode-like images that can be read by smartphone scanners. Once scanned, they open to a link that goes to anything from your site to your Facebook page or your blog. That makes them perfect to include on a business card, as they are a memorable way to get your name out there.
Here's a QR code that links to HEROweb's Facebook page: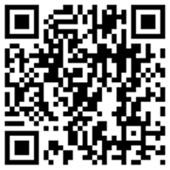 The QR code that you create can link to or embed a data file that many phones can instantly add to their owner's address book. For example, If you take this business card to a conference, you can automatically add your info to the contact list of anyone who scans your card. Then, they can give the card back to you or pass it on to someone else.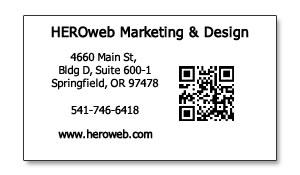 The website
QRStuff.com
lets you easily select the data you would like to embed into your code (such as your website URL, YouTube video, Google Maps Location, social media profiles, telephone number, email address, contact details, event details, and more). Once that is selected, you can create the code's colors and how you want to receive the code. You can even choose to have the code printed on objects such as hats and mugs.
Subscribe Now
---
About the Marketing Bite
Marketing Bites are short actionable tips to help you market your business. Each Bite contains a marketing idea and an easy to complete action. The Marketing Bite is emailed weekly to subscribers.
Readers say...
"You offer such great information - I feel like I am gaining a bigger and smarter marketing presence. Thank you so much!" -Pamela
"Thanks. I have been getting a lot of value from [the Marketing Bite]. If I need help with marketing on the web in the future, I know where to find the experts." -Jodi