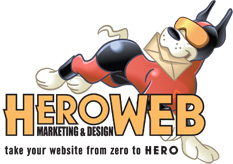 SiteBeat: June 2019
The HEROweb Marketing and Design Newsletter
HEROweb.com · MightyMerchant.com June 2019
Greetings. We have received a lot of positive feedback from customers about the return of "SiteBeat" this spring. We are glad you are finding value in the information we are sharing. If there are any topics you would like to learn about please let us know. We strive to provide a balance of technical tips, knowledge about the MightyMerchant platform, and marketing ideas.
Email Spoofing Update
The problem of someone spoofing your email address and sending an email that appears to be coming from you can be unsettling as well as harmful to your reputation and business. We have put some information on our Support Page on how HEROweb handles email spoofing.
The intent behind email spoofing is almost always malicious. We have reports from many customers receiving emails from their own addresses that are attempting to extort money. We have recently deployed several methods to reduce the likelihood of your address being used for spoofed emails. If you would like to take advantage of a more rigorous anti-spoofing configuration for your domain, just contact webhelp.
Marketing Tip - List Your Products in Multiple Categories
A key part of generating orders is making it easier for your customers to quickly navigate through your site and hone in on the product they are looking for. Shoppers today are used to sites recommending and sorting products in a way that makes it easy for them to click to buy. That's why we recommend that you categorize your products in multiple ways. With the Site Manager, you are able to list your items in these ways so they show up in multiple categories. Some basic options are:
There is no limit to the ways the user can categorize. You have many options based on whatever categories make sense for your items. For instance, a shop selling perfumes could categorize by types of fragrance or ingredients. Or plants could be included in categories of annuals, perennials, and bloom color.
We have created instructions for how to add one product to multiple categories. Items in your Site Manager can be assigned to as many categories or subcategories as you wish.
Consumers love to shop online because it's easy, comfortable, and often faster than going out to comparison shop in person. Amazon and other large shopping sites compete based on their sheer size, of course but also because of how effectively they give shoppers different ways to find what they want. While sometimes it seems daunting to compete with Amazon, there are steps you can take to give your customers an excellent shopping experience on your site.
Great customer service, which Amazon definitely can NOT compete with, is important. A mobile-friendly site and multiple categorizations of products so that customers can quickly and easily find the items they want along with recommendations for other items are other ways.
Power Tip - Setting Your Web Page Address
Every page on your site has a unique address. That's a basic structure requirement of the internet, so that computers know specifically where to send website traffic. If two web pages had the same name, the servers wouldn't know where to send the traffic.
MightyMerchant has an automated system for creating the page addresses, but you can override this default method if you choose to. You might want to create your own website addresses for Search Engine Optimization reasons or because you want to have a shorter URL for certain pages that is easier for customer to remember and doesn't look as fussy. The part of the web page address that you can control is the part labeled "Unique Page Address" below.

Google may be more likely to show a web page in search results if the unique page address matches the search term. For instance, if someone searches for "league soccer balls" Google might place a higher priority on your "league-soccer-balls" page than for a page that is called "soccer-gear". The web page address also serves to reinforce to the site visitor that they will find what they are expecting to on the page.
Here is some info on setting web page addresses and why you might want to manually override the default page names.
​Feature - Importing and Exporting Data
When you have large scale changes to make to your data, it can often be more efficient to export the data into a spreadsheet, make the changes, and then import back to the server. For instance, if you're changing numerous prices, it would be easier to change them in a column on a spreadsheet than to open up the page and pricing info of each item and change them that way. However, in order for this to work the data file must be prepared correctly beforehand.
We have some instructions for importing and exporting data on our Support Page.
Recent Projects
https://www.schreinersgardens.com - Schreiner's Iris Gardens is a top grower of fine Irises. We have recently done an extensive upgrade to the site with complete wholesale functionality.
https://www.johnolivebasketballcamp.com - John Olive is a top youth basketball coach in the US. We have created the site with an easy-to-use registration system.
http://www.speerhoyt.com - This is a simple and attractive one page site for a local law firm.
https://www.gcap.org - GCAP provides government contract assistance for businesses in Oregon. We have developed an extensive mobile responsive website for them, including a mobile responsive calendar.