Share on Social Media at the Ideal Time
PRDaily.com
has shared some interesting statistics about people's social media behavior: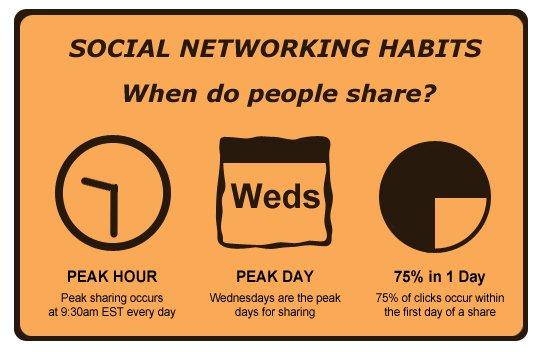 • The peak sharing time is 9:30 a.m. EST every day.
• Wednesday is the peak day of the week for sharing.
• Most people click on a link two minutes after sharing.
• Sharing by copying and pasting URLs directly from the address bar to emails or other social channels can be used up to 10 times more than from sharing tools.
If you only post to your blog, Facebook, or Twitter feed once per week, aim for posting on Wednesday mornings so you take advantage of this ideal time.
When do
YOU
share items that you find interesting? Visit the
HEROweb Facebook page
and share your comments with us. (Even if it's not Wednesday morning!)
Subscribe Now
---
About the Marketing Bite
Marketing Bites are short actionable tips to help you market your business. Each Bite contains a marketing idea and an easy to complete action. The Marketing Bite is emailed weekly to subscribers.
Readers say...
"You offer such great information - I feel like I am gaining a bigger and smarter marketing presence. Thank you so much!" -Pamela
"Thanks. I have been getting a lot of value from [the Marketing Bite]. If I need help with marketing on the web in the future, I know where to find the experts." -Jodi