Get More Out of Facebook's New Page Insights
In June Facebook announced its new and improved Page Insights, and this week they are rolling it out to all Pages. There are a couple of major improvements that you should check out. The new interface is divided into four tabs: Overview, Page, Posts, and People.†
†
Letís take a look at the Posts tab. You can now use Page Insights to see what are the best times throughout the day and week for you to post. You can see from the graph below that this Pageís best day is Friday and that activity peaks around 8 pm. You can also click on each day to see information for that day.
†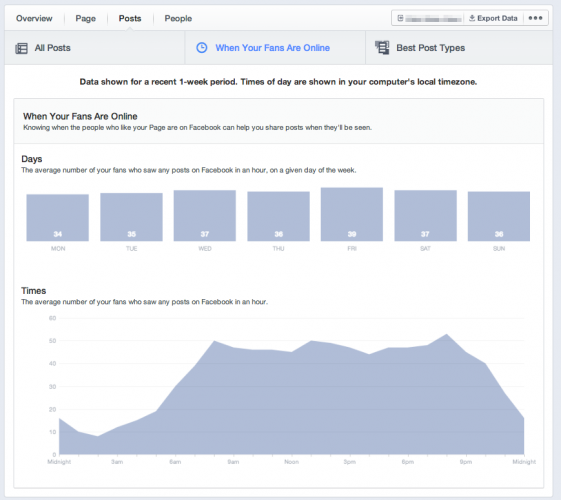 †
†
Another useful insight is Best Post Types (also found under the Posts tab). This graph reveals which types of posts do the best on your page. The graph reveals that this Page receives the most engagement from photos.
†

†
Page Insights has also revamped their demographics information. Now you can compare the demographics of your fans to the entire Facebook population and also see which demographic engages most with your page through likes and comments. You can see that this Page caters towards women in the 25-54 age range.
†

†
†
These are just a few of the graphs available in Facebookís new Page Insights. Check out your own Page Insights to better understand your Facebook presence so that you can make improvements to your social media strategy.
Subscribe Now
---
About the Marketing Bite
Marketing Bites are short actionable tips to help you market your business. Each Bite contains a marketing idea and an easy to complete action. The Marketing Bite is emailed weekly to subscribers.
Readers say...
"You offer such great information - I feel like I am gaining a bigger and smarter marketing presence. Thank you so much!" -Pamela
"Thanks. I have been getting a lot of value from [the Marketing Bite]. If I need help with marketing on the web in the future, I know where to find the experts." -Jodi