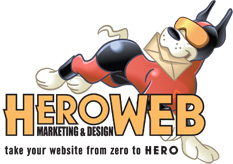 SiteBeat: May 2020
The HEROweb Marketing and Design Newsletter
HEROweb.com ∑ MightyMerchant.com May 2020
It is hard to believe, but as we are preparing to send this newsletter most of us are more than a month into a self-isolating quarantine. We hope people are adjusting and finding ways to keep their business moving forward. If any of you have figured out ways to pivot, such as delivering your services virtually, reaching prospects through video, selling something new, or offering new subscription packages, or anything like that, let us know. We would love to hear about how you are developing resiliency and to help with your efforts if we can.
Within this newsletter we delve further into working with third party vendors, like marketing companies or programmers. Building off the article last month about adding third-party codes to your site, we take a more in-depth look at one specific third party service that most people want to incorporate somehow: Facebook.
Our Pro Tip for using the Site Manager is understanding what a MightyMerchant Component is and how to set the correct components for the sections of your website. Finally, when you want to take a payment for something but you do not want your customer to go through the complete shopping cart process, there's a way to create a custom payment form.
If you would like to share any ways that your business has pivoted, or a way that you have found to turn the situation into something positive for your business, we would love to hear about it. If it is ok with you, we'll share the stories we hear in a future newsletter. Hopefully this type of situation won't happen again, but if it does, maybe sharing ways that other businesses have adjusted will help us all be better prepared. Thank you for reading and keep in touch!
​Working With Third Parties
If you are working with third-party vendors, such as marketing companies or programmers, we have found that the best path to success is if you have those companies communicate directly with us rather than for you to act as a go-between. Please don't interpret this to mean that we don't want to work with third-party vendors! We are happy to work with the companies that you have chosen to build your business's success.
But sometimes the more people there are communicating about a topic, the more confusing things become. Some of our guideline basics are that we ask that, you, the site owner, be cc'd on all communication with the third party. We want to be absolutely sure that the work that is being done is authorized and secure. Because of security risks, we do not provide FTP access to third party vendors. It is often much more efficient for our staff to make changes that would involve this type of access.
To help clarify the guidelines that we think work best for everyone involved, we have put together an article called "Information for Customers Working with Third-Party Vendors" that is on our MightyMerchant help site. Please let us know if you have any questions about this.
How-To: ​Facebook Pixel Installation
In last month's issue, we wrote about the process of adding third-party verification codes to connect your site with services such as Google Maps. Facebook is one third-party service that almost everyone wants their site connected to.
Since most people want to connect with Facebook, we have created more specific instructions related to the Facebook Pixel. The Facebook pixel is a code that is triggered when someone visits your site and takes an action after seeing your Facebook ad. This could be whatever action you set up, such as visiting the FAQ page, abandoning an item in the shopping cart, or completing a purchase. With the code installed, you'll know when a customer takes a specific action.
This knowledge can allow you to create a custom audience, to follow up with targeted marketing messages for that audience. For instance, Facebook retargeting pixel data and dynamic ads allow you to show targeted ads to people who have already visited your site. If someone abandons their cart, you can show them an ad for the product they abandoned to get them back to the cart.
Read our article on installing the Facebook Pixel.
​Pro Tip: ​Assign Components to your Categories
Every page on your website has a structure and layout applied to it. You might have an item for sale, a blog post, a photo gallery, or an FAQ page. Each of these content types has a component in MightyMerchant that allows that section of the site to have specific functions and layouts that are geared toward the type of content you are sharing.
The layout of the page is defined by the Component Name and Component Layout that you have assigned to that category in your Site Manager. These are important ideas to understand, because components have multiple layouts to choose from, which will change the way that section looks on the page. If you are adding a new item, or section, to your site, assigning the right component will make the difference in it looking the way it should and working properly.
If you want to learn more about components, read our Understanding MightyMerchant Components page on the support site.
​Custom Payment Form
Sometimes you might need to take payment for a specific amount, but you donít want or need your customer to go through your shopping cart to purchase an item. The custom payment form is just for that purpose.
For instance, you might have negotiated an amount for a custom order and shipping costs for a customer in Europe. Or, you might create a custom package for a specific customer that's not a normally available item. In cases like that, you can utilize a custom payment form to collect a credit card or PayPal payment for a specific amount.
Learn how to utilize the custom payment form.
​Recent Projects
Recent Projects
https://www.barwalt.com - Barwalt is one of the leading U.S. suppliers of tools for the tiling industry. This site features an instructional video section with embedded YouTube videos.