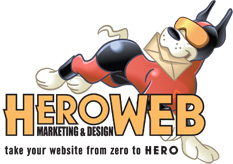 SiteBeat: September 2019
The HEROweb Marketing and Design Newsletter
HEROweb.com · MightyMerchant.com September 2019
While it's still warm out, at least here in Oregon, the new school year is starting and it feels like fall is around the corner. Things are heating up at HEROweb with more than a dozen website projects in the works. We are excited to have just added a new website developer, Shannon Nordquist, to our staff.
Soon, thoughts will turn to the holidays and the extra planing and preparation that online businesses do to have their sites ready for end-of-the-year shopping. One of those site changes you might make is bulk updating your pricing, which we discuss on a section of this newsletter. If you're planning on adding or updating images, we also have a section about prepping images. Your site will display your images in the best way if they are all the same size.
We always suggest that site owners can improve their sites by adding content. That could be in the form of a blog, or just more content and resources in general. If you're ready to add some content — maybe a robust FAQ page, or a landing page, or case studies — we show you how to add a content section to your website. Thank you for reading! We hope you find this newsletter helpful.
How To: Prepping Images
A website with consistently sized images, whether being viewed on a desktop or a mobile device, will always look its best. There is not one right size, but having a collection of images being the same size is important.
The widest dimension you would likely ever need for a full-width photo that spans the entire width of the browser window, would be about 1600 pixels. If you are taking photos strictly for your website, with a digital phone or camera, we recommend saving them at a medium rather than at the largest size as the extra file size of the larger images will just take longer for you to process, load, and resize.
Product images should be saved at 72 dpi and should be an absolute minimum of 350px tall or 350px wide. Ideally, they would be larger, about 1000px tall or 1000px. Using the larger size will allow the zoom feature on your site to work effectively.
If you have an image editing program, you can often set up a template file and then import or paste your new images into that file and save as a new file that is the exact right size. Working with images can be a whole lot easier if you develop a naming convention for your images, and you avoid the automatic names that your phone or camera might use, such as "DSC00132.jpg".
Those typical names make it impossible to search for images when you want to be able to find a particular one. Search engines want to be able to know what's in an image too. Consider renaming "DSC00132.jpg" to whatever it actually shows, for instance, "blue-hexagon-soccer-ball.jpg".
We always recommend sizing and loading a couple of sample images to make sure they look like you expect before spending a lot of time taking and editing a large batch of images.
MightyMerchant's support site has more information about working with images.
Bulk Updating Your Pricing
When you want to increase or decrease your prices en masse, it's nice to not have to go into each item and make changes. In the June 2019 newsletter, we talked about importing and exporting data using spreadsheets to make large-scale changes.
There are many applications for this, but changing pricing is one of them. To use this feature, go to your site and click Download Items in the category you would like to download. Typically, this will be the "Product Catalog." Select the fields: Product Name, Catalog ID, and Price, then select Download Into a Spreadsheet. Make a copy of the spreadsheet before you start working on it.
With the copied spreadsheet open, adjust your prices and save the changed file as a .csv (comma-separated) file. Do NOT remove the first two rows of the spreadsheet or delete any of the columns.
Go back to the Site Manager and click Import Data and select the .csv file that you just saved. Other reasons that you might want to use bulk update are to add or delete multiple inventory items, or if you need to update the information on many items such as color or size.
We have some additional instructions for importing and exporting data on our Support Site.
Adding a Content Section to Your Website
Blogging used to be THE thing that was recommended for getting site visitors, increasing search traffic, and helping search engines see your site as more authoritative. The truth is, blogging is still important for those reasons, but most site owners have a hard time doing it because of the time commitment and the difficulty of coming up with topics on a regular basis. A blog that is never updated is more of a negative than a positive.
We do always recommend, however, that you add content to your site when and where you can. One easy way to do this is to add an Articles category to your site.
1. Come up with ideas for three short articles/posts that would be valuable, informative, entertaining, and relative easy to create. Of course, the topics will vary based on the type of site you have, but nearly all sites can benefit from the following types of content:
thorough FAQ pages
a landing page for a specific product or sale
case studies
press releases (even if you just write them yourself and post them on the site)
employee profiles
customer profiles
industry-focused news
2. Create an Articles category in your website, and give it a component type of "Webpages." Set "Main Nav Level 1" to "yes" if you want the articles category to show in your Main Navigation.
3. Write your first article and hit publish!
Writing articles, newsletters, or other helpful site information is a habit that you will need to develop. Give it a try by adding a few short articles or pages to your site!
Announcing a New Web Developer: Shannon Nordquist
We have hired a new web developer this month: Shannon Nordquist. Shannon says she is excited to be the newest member of the HEROweb team and we are excited to have her! She is a University of Oregon graduate with a degree in English literature. She also studied computer programming at Lane Community College and taught web design and programming with Python to high school students for several years. During that time she also managed a HEROweb website, so she says it's exciting to now be on "the other side" of that process. In her free time she enjoys gardening, reading, spending time with her kids and hiking with her two dogs and her husband, Mark. Welcome Shannon!
Recent Projects
Recent Projects
Sometimes our sites are brand new, as in the case with the two below. Sometimes they are redesigns, as in the case of Artistic Customs and Collision. A website redesign can be about more than just getting a new look. It can be about redesigning your site for a better shopping experience, better mobile responsiveness, or strategic planning to help be sure that your site is actually helping you reach your business goals. Talk to us if you're thinking that your site could use an overhaul.
New Sites
www.mitasbike.com - Mitas is Europe's largest manufacture of tires and tubes, in business since 1908. This new website is the United States-based distributor for Mitas mountain bike tires and tubes.
www.ezfamilyinnovations.com -You'll never have to worry about your baby or toddler spilling their drink again. This site sells a clever lid that easily converts most typical store-bought drink containers into a kid-friendly sippy cup or baby bottle.
Redesigns
http://www.artisticcustomsandcollision.com - Ken Jordan has offered classic car restoration and collision repair for more than 25 years. Their new site has an improved home page layout which grabs people's interest and keeps them on the site, with images and current projects. The site highlights their experienced team, and the many services they offer, which was missing from their previous site.