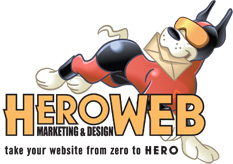 SiteBeat: November 2019
The HEROweb Marketing and Design Newsletter
HEROweb.com · MightyMerchant.com
For many site owners, the pre-holiday months are a time when you see more site visitors than usual and might want to add content or information to your website in preparation for the holiday shopping season. Check out the Content Management tip on controlling your menus, which will show you how to add pages to your navigation and adjust the links that are in your header and footer navigation. The Pro Tip this month is about allowing your local customers to pickup their orders directly from you rather than having them shipped.
Images and unauthorized usage of them is an ongoing problem for many Internet merchants. While it is easy for most people to copy your images and use them for their own purposes, there are several steps you can take to make it harder for people to steal your images. 
Another issue we delve into this month is managing your email and what to do if you are over quota.
November is synonymous with Thanksgiving for most people, and as the month of giving thanks, we would like to thank all of our customers. HEROweb has been in business since 1996, and we wouldn't have made it this far without our great customers. So we thank you, and we appreciate your business. We hope you find useful information in this month's newsletter.

​Content Management: Controlling Your Menus
One of the key tasks for managing your website is adding pages to your navigation. You could add pages for holiday-specific products, add an FAQ page, add an article section, or links to any other part of your website where you want people to be able to navigate directly.
You can easily control the links that appear in both your header and footer navigation in your MightyMerchant site as well as in your dropdown menu navigation. Easy and intuitive website navigation is of utmost importance to online shoppers. Navigation that includes both broad categories and some subcategories, and takes users right to the information they want, such as a shipping information page or return policy page, cuts down the number of clicks the user needs to do before they get to the information they want.
You can learn how to control your menus in the "Editing Navigation" article on our MightyMerchant support site.
Security: Protecting Your Images
Unauthorized use of images is a common problem for online merchants, because it is pretty easy for most people viewing your website to make a copy of your images which they can then use for their own purposes.
There are several steps you can take to make it harder for people to steal your images.
Copyright
If you're using original images on your site, the first step should always be including stern language about your copyright on your site. People can still easily right click and download your images, but it does make it clear that they are breaking the law by using them. The language alone might deter the group of people who might be tempted to knowingly steal your images but aren't aware they're potentially breaking the law. It also sets you up to be able to follow up with legal action if you choose to.
Watermarks
If you're selling photography or art, or are using other original images that you really don't want anyone to be able to publish in any other context, you can watermark your images. (If you are interested in this option, you can contact us for help in setting this up.)
For an example of a site using watermarked images visit the product catalog of Schreiner's Iris Gardens. Most of the photos on their site have a small copyright symbol and their company name in the bottom right corner of the images. If someone downloads the images with the intent to use them in their own work, these words and copyright symbol will still be there.
DMCA Take-Down
You can file a DMCA take-down notice to the hosting provider of the site that is using your images, which essentially enforces your copyright and requires the hosting provider to take action with the site owner. It involves you as the copyright holder sending a notice to a service provider (which can be the internet service provider (e.g., Comcast), website operator (e.g, eBay), search engine (e.g., Google), a web host (e.g., GoDaddy) or other, to request that they remove the material.
If you're going to go this route, read up on the pieces of information that are required to be in the takedown notice before you send it. The Copyright Alliance has some information on the DMCA notice process.
This is a behind-the-scenes solution which won't stop people from taking your images but makes it harder, because it disables the right-clicking feature, which stops instant 'Save As' downloads.
If you're concerned about unauthorized image usage or you have questions, let us know and we can help you work out a solution that works for your site.
Managing Your Email Quota
At some point you may receive an automated email message indicated you are approaching your email account quota. If this happens, you will need to take action in order to continue receiving email. However, we want to point out that if you do receive an automated email message, you should never click any link in an email to log into your account. Instead, type the address for your webmail access directly into your browser.
Our "What If I'm Over My Quota" article on our MightyMerchant support site explains what to do if you need to manage your email due to being near quota. The first and easiest thing you might want to check if you are approaching your email quota is to check your Spam folder, Sent Mail, and the Trash for accumulated messages. If you need to take more action than that, the article above can explain the steps to take.
Pro Tip: Setting a Local Pickup Option
Offering local pickup could be a great way to reach customers that are right in your area. You could offer large or difficult to ship items to your local customers, or use it as a selling point for last-minute gift options.
Setting a local pickup option on your site is simple, and the steps are listed on our Adding a Local Pickup Option page. Adding a "local customer shipping zone" is two-part process, but it is essentially as simple as adding a new zone in the Shipping Manager, adding the ZIP codes that are local to you, and then adding a Local Pickup Shipping Method.
You might also add in other parts of your site — like your product pages or checkout — that local pickup is an option.
New Sites
https://www.ooodlesofdoodles.biz - Ooodles of Doodles is a Long Island-based creator of personalized gifts and party favors.
https://www.shouldershirts.com - Shoulder Shirts is a manufacturer of post-surgery, adaptive clothing.
https://alpinebuilthomes.com - The website of Alpine Ridge Construction, a Springfield, Oregon-based builder of fine homes.
https://ginasjewelryboutique.com - An online retailer offering a wide-range of reasonably pricing jewelry, charms, and clothing.