Add Facebook's New Clickable Hashtags to Your Posts
Just this month, Facebook rolled out the first of a series of features designed to broaden the online discussions of its users (making it easier to find what others are saying about specific topics, products, or events), as well as improve content discovery through the site.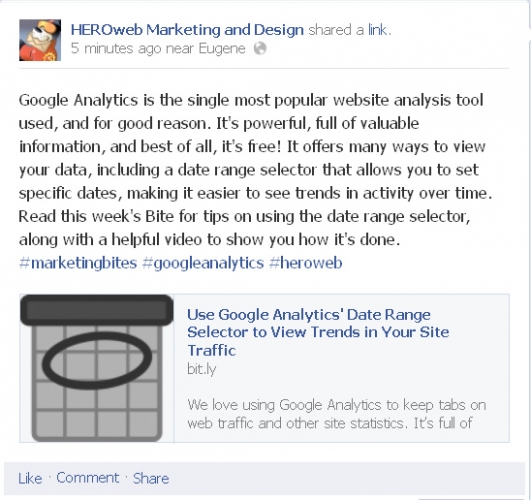 The first feature is clickable hashtags (a cue taken from Twitter and other social media sites), which can be used to drive traffic to your page every time you post.
With the simple click of a hashtag (any word or phrase that has # in front of it, such as #heroweb), you will see a feed of what other people or Pages are saying about that same topic. Hashtags will also be searchable through the Facebook search bar, and users can click on hashtags originating from other services, such as Instagram.
For example, if we were posting an image of the HEROweb staff hard at work, we would consider incorporating a handful of hashtags throughout our post, such as #webdevelopment, #webdesign, #ecommerce, #onlinemarketing, #smallbizwebsites, #onlinestores and of course, #heroweb (donít forget your company name!).
The image on this page is an example of hashtags in action from last weekís Bite that we posted on Facebook.
†
---
Action: The next time you post on your Facebook business page (whether itís an image or a status update), add a handful of relevant hashtags to your post. This can be especially useful if your post is about a promotion (people will often search for hashtags such as #promotion, #contest, #coupon, etc.).
---
†
Subscribe Now
---
About the Marketing Bite
Marketing Bites are short actionable tips to help you market your business. Each Bite contains a marketing idea and an easy to complete action. The Marketing Bite is emailed weekly to subscribers.
Readers say...
"You offer such great information - I feel like I am gaining a bigger and smarter marketing presence. Thank you so much!" -Pamela
"Thanks. I have been getting a lot of value from [the Marketing Bite]. If I need help with marketing on the web in the future, I know where to find the experts." -Jodi