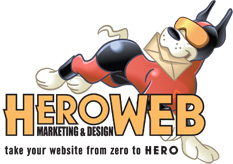 SiteBeat: October 2019
The HEROweb Marketing and Design Newsletter
HEROweb.com · MightyMerchant.com October 2019
We've been busy at HEROweb over the past several months preparing for a major software upgrade on our servers. Our focus is to roll this software upgrade without any downtime or disturbance to your website. We will be in touch over the coming weeks with further communications.
Our tips this month involve sorting orders and exporting orders and accounts. We've also been working on some exciting new projects. Thanks for reading our monthly newsletter!
Software Upgrade
For the past several months, we have been working hard on a major software upgrade on our servers. We will be rolling out the upgrade between now and the end of the year on a few sites at a time rather than all at once.
We will notify you when your site is about to be upgraded. (Many of you have already received an initial upgrade notice.) This upgrade has been in the works for a while, with several months of implementation and testing. As such, we do not anticipate any down-time for your website during this upgrade. However, all websites will need to be updated to the latest version of MightyMerchant.
If your site has not yet been updated, we will be updating it before this upgrade can occur. There are no costs involved in this upgrade. We will ask you to look over the site once we complete each stage of the process.
Sales Tax Update
One of the ongoing challenges to running an online business has been the patchwork of different sales tax requirements in different states and even within states. Only the states of Alaska, Delaware, Montana, New Hampshire, and Oregon are not "sales tax states." Within other states, sales tax requirements can be complex, with each different municipality charging its own tax rate with its own lists of taxable products and services.
To make matters more complicated, sales tax rules are constantly changing. They have been in flux for the past several years and this will certainly continue. Currently, MightyMerchant allows you to set sales tax rates per state and even load tax tables for states that have more detailed requirements.
Many states only require that you collect sales tax if you meet certain minimum sales thresholds or you fall under their "nexus" criteria. We are looking at integration with third party systems that calculate sales tax on the fly. We do not yet have a date for the rollout of that functionality.
If you need to collect sales taxes for one more states, please contact us to discuss your specific situation.
Sort Order Per Category
MightyMerchant makes it easy to sort categories based on a range of criteria. This can be a very powerful tool when you want to be able to sort categories in ways other than the item names or list number.
In the Site Manager, you can set the sort order for any category based on a field of your choice. To set the sort order, simply go to the Category Edit Screen, and select your field of choice from the Sort By drop down menu.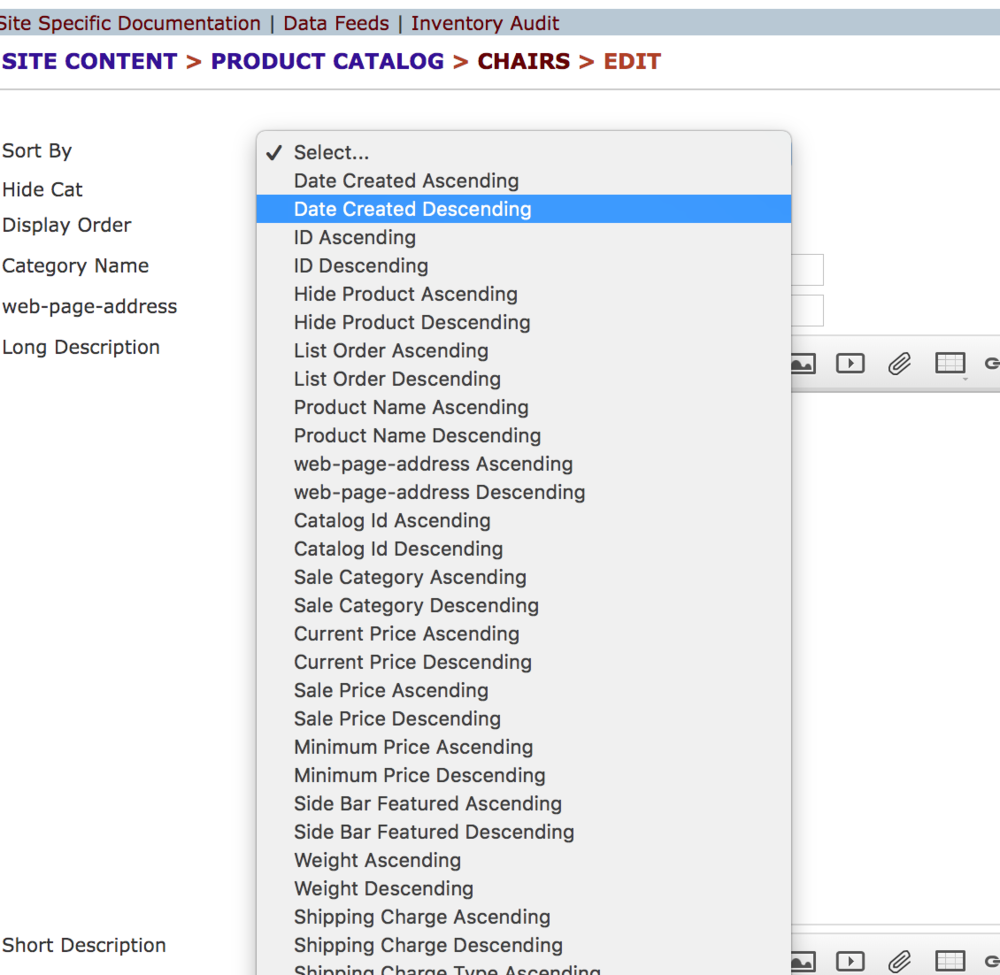 You can select any field from the list and sort by ascending or descending order. For example, if you want to sort by creation date and you designate "ascending," the items that you create first will be at the start of the list. If you designate "descending," the items you created last will be at the start of the list. Once you save your change, the list order of this category will use the field you designated.
Exporting Orders and Accounts
Many customers want to download and export orders and accounts because they want to send an email blast to each customer's email or analyze the list of customers that they have accumulated over the years.
Analyzing your orders can give you insight into order patterns. You may want to know long-term trends, or what months you get the most orders, or other similar information.
Downloading is simple. Just go to the Accounts or the Orders screen in the Site Manager and you will see a link to "download orders" or "download accounts." Clicking either of these options will download the information as a .csv file. You can open the file in a program like Excel or Google Sheets.
Recent Projects
Site Redesigns
https://www.minimegeology.com - A retailer of unique rocks for educational purposes and young geologists.
http://www.athomeonthesound.org/ - A non-profit organization that provides a wide range of services to the 60 and over population in the Larchmont, Mamaroneck, and Rye Neck area of New York.
https://www.travelperks.com - The standout travel and cruise agency in the Eugene/Springfield area.
New Site
http://www.oakststudio.com - Dean Zajicek is a fine woodworker from the Chicago area who creates unique furniture and gifts.