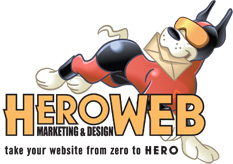 SiteBeat: May 2019
The HEROweb Marketing and Design Newsletter
HEROweb.com · MightyMerchant.com May 2019
Hello from HEROweb!
Welcome to May! In this issue we share information about security certificates, which are important for keeping both your website information and your user's information secure. Our readers asked for a list of the features of our newest platform update, which we are now posting on our Support site. We're also changing the way we handle declined transactions.
Read on for a pro tip about hiding versus deleting Site Manager content, and also check out some new projects we've worked on.
Security Certificates
If you still haven't acquired a security certificate for your domain, we recommend that you do it as soon as possible. Security certificates are the current web standard for safe and secure websites. You can tell when a website has a security certificate because there is a lock symbol in the URL bar.
Google made a change last year that makes it much more important for domains to have a security certificate. The Chrome browser will indicate that your site is not secure, which can scare people away from visiting your site, even if you just have a simple informational site like a blog.
If you currently have a MightyMerchant ecommerce site and have not yet acquired your own certificate, you are using our shared server-wide certificate, which protects your customers' cardholder data.
We have published some information on security certificates in the past. All websites, whether they are ecommerce or not, should utilize a security certificate to secure all web pages of their website.
The certificate confirms that the user is connecting to the site they think they are connecting to. And it keeps the communication between your website and the user's web browser and web server secure. Website certificates are also sometimes called SSL, meaning Secure Sockets Layer, although that term is now outdated. The current technology is known as TLS or Transport Layer Security.
You have a few options. We can install and maintain a "Let's Encrypt" security certificate for your domain, or you can purchase a security certificate through HEROweb and have HEROweb install it. You can purchase a third-party certificate and HEROweb can install it. Please see our article on security certificates for more details and pricing information on these options.
MightyMerchant v5.3 Feature List
After we talked about MightyMerchant upgrades in last month's newsletter, we got several requests from our readers who wanted to see an updated feature list.
We have added a feature list for v5.3 to our Support site.
New Handling of Declined Transactions
Based on customer feedback we have adjusted how MightyMerchant handles declined transations. An email will no longer go out to a shopper when they are unsuccessful in entering their credit card. Read our article "How MightyMerchant Handles Declined Transactions" for all the specifics.
Pro Tip: Hiding vs Deleting Content in the Site Manager
A frequent support question we receive is how to handle content on the Site Manager that you don't want on your site. People often ask if it is is better to hide or delete content when you no longer want it. There are pros and cons to both options depending on what your situation is.
We have created an article covering the details of this topic. Please visit our Support site to learn more about "Hiding vs. Deleting Content in the Site Manager."
Recent Projects
http://www.westwindcollection.com - France Robinson creates custom prayer flags for organizations, public spaces and events. She works with a family of third-generation Tibetan Buddhist prayer flag makers in Kathmandu, Nepal, who make their high quality prayer flags from 100% fine cotton
https://www.ultimatekoiclay.com - This retailer and wholesaler supplies a unique koi pond product that provides the trace elements that naturally occur in soil to enhance the health of your koi pond.
http://www.hcpaint.net - High Cascade Painting and Construction is a Creswell, Oregon, family-owned and operated company providing residential and commercial painting and refinishing.