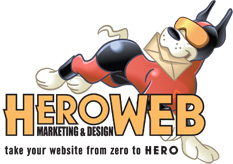 SiteBeat: April 2019
The HEROweb Marketing and Design Newsletter
HEROweb.com ∑ MightyMerchant.com April 2019
Hello from HEROweb!
We are happy to be reviving our Site Beat newsletter after a long hiatus. We'll be sending you a monthly newsletter with important information, tips, and timely announcements.
Although we have been somewhat quiet over the past few years, we have been hard at work developing MightyMerchant and are excited about the continued evolution of our platform.
Read on for some important info about updates we've been making, including a new mailing address and changes to our Feed Services.
In This Issue
New Mailing Address
We have a new mailing address. The post office we have been using for the past 10 years closed with no notice! We are now using a different PO Box. Please note the new address and use this address when sending anything to HEROweb by mail.
HEROweb
PO Box 674
Pleasant Hill, OR 97455
Recognizing Scam/Phishing Emails
Fraudulent emails have long been a problem and the situation has not gotten any better. The volume of scam/phishing emails has continued to be oppressive despite the use of spam filters, because spammers have gotten better about creating emails that look real.
One specific issue has been forged emails that appear to be coming from Rackspace about your email account. Rackspace is the email platform we utilize.
You should consider any email to be bogus if it is about your account and it doesn't specifically come from us here at HEROweb. Particularly of concern would be any email that prompts you to log in to your account. Don't click on any links in those types of emails.
If you ever have any questions about an email you receive an whether it is legitimate, just contact us here at webhelp.
We will be looking in the coming months at additional ways to help safeguard your email box.
A few years ago we published an article called "Identifying an Email Phishing Scam" that takes a close look at a fake email that one of our customers received. While some scam emails look very good, if you look closely at the details of the email there is usually enough information to help you determine that the email is fake.
Understanding MightyMerchant Version Numbers and Upgrades
Every MightyMerchant Website has a version number. That version number changes each time we make an update, such as adding new features, bug fixes, and small enhancements. The higher the number, the more recent the update is.
You can see your version number in the bottom left corner of your website. Here's a screenshot showing the version number on the HEROweb home page.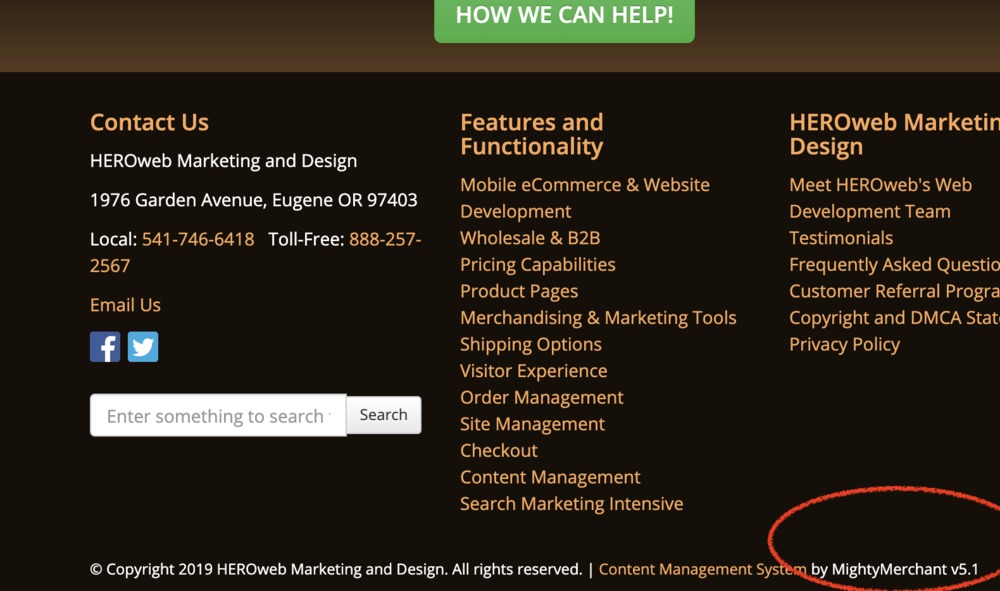 The current MightyMerchant Version is 5.3. Any site on version 5.0 or later is considered up-to-date.
In most cases, upgrading to the latest version is free. However, we donít automatically upgrade because many of our sites have custom features and upgrading could be complicated. A small number of sites that have highly customized integrations with other systems might require a small fee to do the upgrade.
If you are interested in upgrading to v5.3, please contact us.
Google Structured Data Updates
There are many important aspects to maintaining a website that most people don't think about because they are "behind the scenes" details that don't affect the general user.
One of these behind-the-scenes features is known as Google Structured Data. In the past it was called other names such as "rich snippets" or "schema markup.Ē
This Google Structured Data is a code that helps Google understand how the data on your website is structured, so it can make better sense of it. This code is important for how Google views the products on your site. They have explained that structured data provides a way to standardize information about a page and classify the page content. Google also uses structured data to enable special search result features and enhancements. For example, a recipe page with valid structured data can be eligible to appear in a search result that contains an image. As a result, Google has increasingly put more importance on structured data.
We have made some updates on our templates related to structured data that we will be rolling out on your site in the next month. As these changes do not impact how your site looks to your users, it's all behind the scenes. You will not notice any difference in the look of your site.
We recommend, if you havenít already done so, to get a free Google Search Console account so you can gain valuable information as to how Google views your site. Google Search Console provides different information than a Google Analytics account does, and the two can now be connected so you can get even more information in one place through your analytics account.
HEROweb Feed Services Ending
On June 1, 2019, we will be ending our service of creating and managing feeds for Google and Amazon feeds. You can continue to use your current feeds as they are configured but we will not be making further changes to feed files.
Feed creation is an increasingly specialized area that takes ongoing management and one which we feel is best left to companies who are focused 100% on staying current with requirements from platforms like Google and Amazon.
If you are using our feed service, all of your data will still be available to you, so you can work with a third party provider. We will provide instructions for customers to make the transition.