Use Rich Pins to Display Product Information on Pinterest
Pinterest recently rolled out a new feature called "Rich Pins" which allows you to display detailed information next to items pinned from your website, such as purchasing information and availability. There are three categories of Rich Pins: Products, Recipes, and Movies. The product pins look like this: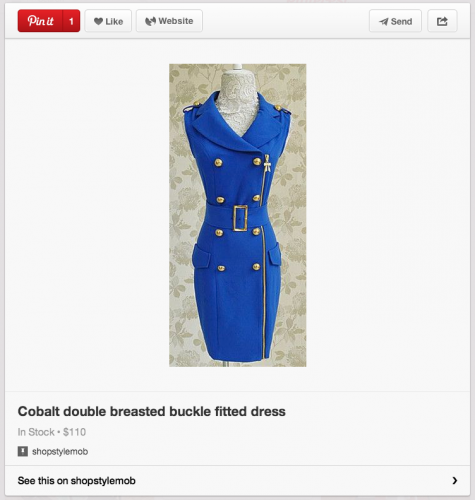 This product pin shows that the item is in stock at ShopStyleMob with a price of $110.
Product Pins are awesome because they direct users to the specific product page on your website where they can purchase the item they like. To get started with Rich Pins you will need to add meta tags to your product pages following Pinterest's instructions. You may need to ask your web developer for help to set this up. You also need to request that Pinterest approves your Rich Pins. 
If you are a HEROweb/MightyMerchant customer we are happy to help you implement Rich Pins on your website.
Subscribe Now
---
About the Marketing Bite
Marketing Bites are short actionable tips to help you market your business. Each Bite contains a marketing idea and an easy to complete action. The Marketing Bite is emailed weekly to subscribers.
Readers say...
"You offer such great information - I feel like I am gaining a bigger and smarter marketing presence. Thank you so much!" -Pamela
"Thanks. I have been getting a lot of value from [the Marketing Bite]. If I need help with marketing on the web in the future, I know where to find the experts." -Jodi