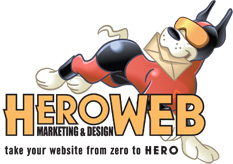 SiteBeat: April 2020
The HEROweb Marketing and Design Newsletter
HEROweb.com ∑ MightyMerchant.com April 2020
Hello everyone! When we published our last newsletter, we had no idea how drastically everyday life would change in such a short time. We are now well into the new year and are living in unprecedented times which none of us could have imagined or predicted. We feel the pain everyone is going through. We have stopped going into our office in Eugene, Oregon, but we are maintaining our normal schedule and staffing and proceeding with minimal interruption. Although some of you are used to working from your home-based business, we understand that this is not "normal" working from home, and it comes with new worries, problems, and challenges. Under normal working-from-home conditions, most people can still take breaks to take their children to the playground, take the afternoon off to go to a movie, or just go to the gym or to the market when they want to. This non-voluntary work from home has upended many of our normal routines.†
For many people that we're hearing from, these extra days at home have given them some unexpected time to focus on the future . . .† perhaps by learning a new skill, reading those books that have been stacked by the bed for months, or updating their site. If any of you have any changes you are considering making to your site, or any related adjustments to your business now or for the future, we are happy to discuss these with you.†
On the bright side, while many things have changed over just a couple of short weeks, some things have not changed. Namely, here at HEROweb we are still working on new projects, refining websites that have been in the works for a while, and continuing to move our platform development forward. Many people ask for help with connecting their sites with services such as Facebook, Google, or Instagram. We have laid out the steps for doing this, which often involves a simple copy and pasting of code into your site in the right place. Since more of everyday life is virtual for the foreseeable future, perhaps a variety of social media platforms will become a bigger part of your business model.†
For many site owners, working with images is one of the most challenging parts of updating or maintaining a website. We have newly discovered an excellent tool that makes it easy to strip out the background of photos.
Thank you for reading! Please keep in touch with us about how you are doing and any ways we can help you and your business become even stronger after this tumultuous time.
In This Issue
DDoS Attack
On March 19, we experienced a major malicious attack called a Distributed Denial of Service attack, or DDoS attack. We sent out a notification to each of our clients, and you are likely already aware of this occurrence since it impacted all of our websites.†
Although these situations are fairly infrequent, they are a reality of life when having a public web server. In the case of the recent attack, we were able to work with support personnel at our database center to respond quickly and stop the attack. DDoS attacks happen when hackers use a large number of systems and programmed bots to maliciously attack one target by requesting a service (in this case, the web server) at exactly the same time, leading to critical overload of the service.
The purpose of doing this is not usually try to steal information or lead to a security breach, but it is certainly damaging. We are assessing a few options for a longer term solution to address denial of service attacks in a more immediate way. We are sorry for the inconvenience this causes to our customers, and know that we are always on the lookout for this type of thing happening so we can stop it as quickly as possible.†
How-To: Adding Verification Codes to Your Site
There are many occasions when you might want to connect your site with a service, such as Facebook for automatically posting your updates, or Google to display a map of your location on your site.†
Most of the time, to do this you need to add a code from the service to your site. It's not hard to do, but the code needs to be in the right place, which is usually the "head" section of your site.†
We have created a help document called "Adding Verification Codes to the Head Section of your Page" that†outlines this easy task.
Stay Tuned for the Return of Help Beacon!
Many of you have let us know about the disappearance of the Help Beacon for requesting technical support. This icon appeared at the bottom of every page when you were logged into the Site Manager. It was a great service but was discontinued.
We are very close to rolling out our own Help Beacon, but the development is taking a bit more time to get everything looking and working the way we want it to. We look forward to having this feature restored in the near future. Stay tuned!
Clipping Magic
We donít often give a plug for third party tools unless they are REALLY good. Clipping Magic is one super helpful one we have come across.
We know that many people struggle with image manipulation and we really like Clipping Magic, because it allows you to very quickly strip out the background of photos. This tool could give you the power to take your own product shots, in your garage, for example, and then strip out the background so it looks like you have pro images taken in a lightbox.
Or maybe you took a photo of your employee to put on your Facebook page, but didn't see the messy shelf in the background when you took the photo. If wanting to remove the background of an image but not knowing how to do it is something you have struggled with in the past, this is a great tool to keep in mind. The free version leaves a watermark on the photos, but the subscription pricing is actually quite reasonable for how valuable of a tool it can be.
Recent Projects
New Sites
https://www.willamettesawmill.com - This custom milling, forestry consulting, and tree-felling company needed a basic business site. They got one that puts their services front and center and makes it easy for people to contact them.
Site Redesigns
https://www.harlequinbeads.com - This popular long-standing bead and jewelry making store got a fresh site with visual links from the front page to take site visitors directly to the type of item they want, and an improved filtered search feature which allows the user to drill down to see only the products they are looking for. Also, a minicart in the top right of every page now keeps a running total of the order.
https://www.capwholesalers.com - As the name might suggest, Cap Wholesalers is a one-stop shop for caps, hats, and beanies of all types. The site received a complete visual facelift, with drop-down multi-column "mega menus" for the main navigation, and a very complex layout on the product pages with multiple image views and purchase options.