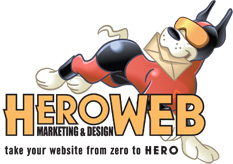 SiteBeat: August 2019
The HEROweb Marketing and Design Newsletter
HEROweb.com · MightyMerchant.com August 2019
Hello from HEROweb! Summer is now in full swing and we hope you are enjoying it. This month we're taking a look at a scary-sounding BItcoin/blackmail scam to keep an eye out for. We also have a suggestion for submitting your support requests that will help us more quickly help you. Our Pro Tip this month is about using the Sale and Coupon Manager — which has quite a few options for you to choose from. Even though it is only mid-summer, now is a good time to start thinking about the promotions you will run later in the year for the holiday season! Let us know if you want an article about a certain topic, and we'll try to add that to a future newsletter. Thanks for reading!
In This Issue
Reporting a Support Issue
When you have an issue on the site or in the Site Manager, always copy and paste the link of the page you are looking at. Screen shots can also helpful. But often, the quickest way for us to see the issue you are talking about is if you can send a link to the page you are currently viewing — either on the site or in the Site Manager.
When your customer reports an issue to you, find out what page they are looking at, what message they are seeing on the screen, what browser and device they are using, and what day and time they had the issue. If you send us a report saying, "My customer couldn't pay on the site," it is unlikely we can solve the problem. But if you tell us, "Customer John Smith tried to place an order at 2 pm today. They were using Chrome on a Windows 10 computer. After they entered their credit card number, they received an error that said "Transaction Failed. Error Type #343." By providing the details, we can can often track down the issue very quickly.
​Security Watch: Beware of Sextortion Scam
We've recently learned that a disturbing scam email from about a year ago is making the rounds once again. This scam involves a scary sounding email that makes the claim that the senders know your passwords and has compromising information about you. They then try to extort you to pay them via Bitcoin.
Read on for more info about this scam, but our general advice is to ignore these types of emails. In the typical scenario, the sender digs up email addresses and passwords from old data breaches, then sends out messages to the email recipients claiming that they have access to the recipient's files, folders, webcams, and browsing history. Receiving such an email is understandably disturbing. However, the possibility that your computer and its contents have been compromised are extremely remote. In most cases, the criminal says they will share a video of you watching adult sites or some other absurd threat unless a Bitcoin ransom is paid.
If you see something like this, don't panic! While the sender may have your old passwords due to a massive data breach (likely at Equifax), they don't have access to your computer.
We do always recommend that you change your passwords if you are ever notified of a data breach. If someone does have access to an old password, they could potentially access your account if the password is still active. A hacker may try to see if you use that same password on other accounts. That's why we also recommend that you develop a system for managing passwords and having certain passwords that you only use for sites with sensitive information, like your online banking provider.
If you're ever unsure if an email you've gotten is a scam, let us know and we'll take a look at it. If you receive an email like this that you know is a scam, report these mails as spam and then delete them.
Pro Tip: Double Mark-down Feature
The Sale and Coupon Manager offers a great deal of flexibility, especially when you want to mark an item down to do a special promotion. A double markdown is a way to offer deep discounts to call special attention to an item.

If you want to heavily promote an item, you can display a double markdown to indicate that a product's price has been reduced twice. You can create a double markdown by using a combination of the sale price field and a sale you have created in the Sale and Coupon Manager. Our Support Center has an instructional page on how to create a double markdown promotion using the following steps:
First, mark down the price of an item to to apply your first markdown.
Set up a sale in the Sale and Coupon Manager to create your second discount for the item.

3. Test your sale! Verify that the settings you entered are giving you the results you want.
Site Manager Know-How: Hiding Items from Search
One important function in the Site Manager is the "Hide Items in This Category from Search" button. This function is related to the on-site search feature on your site. It does not guarantee that Google or Bing will not crawl and index the pages.
There are several reasons you would want to hide content from the on-site search:
1. If you have an Ecommerce site you might only want certain e-commerce related categories to show up in the search.
2. Sometimes you have content on the site which is not really for the general public but only for a targeted group of customers. In this case, you want it available on the site, but not easily searchable.
3. You might have content that you have archived and you still want to be able to access it but you don't want others to view it.
Setting this feature is done at the category level. Any items that have the target category set as the main category will be hidden from the search. You can go to any category page and click the radio button as shown below.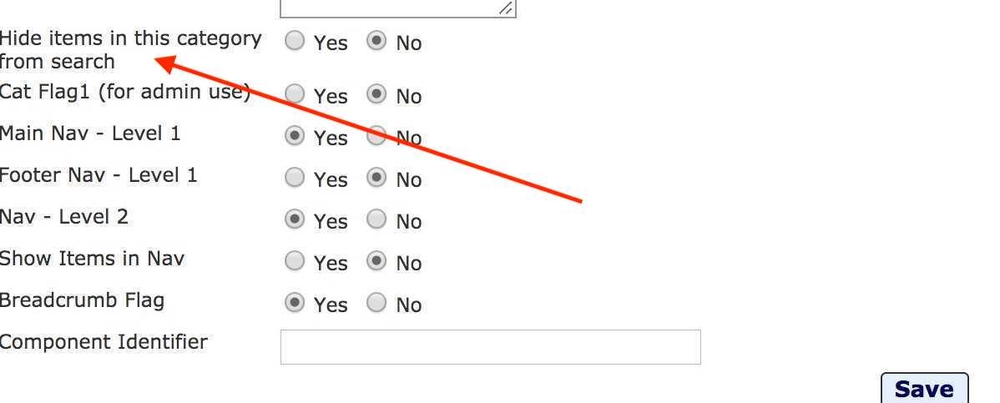 Recent Projects
https://www.learningservicesus.com - We provided a complete design makeover of the Learning Services US website. Learning Services sells educational software and hardware, curriculum material, and teaching aids to educators in the US.