Create a LinkedIn Company Page
LinkedIn (think of it as a Facebook for professionals) now boasts over 225 million registered users. While most of these accounts are personal pages, members have created over 3 million company pages to plug their brand and their business.
Creating a company page  (
http://marketing.linkedin.com/company-pages/
) only takes a few minutes, and 
is a key step in creating a community of followers.
Log in with your personal or business account (it's free and quick to sign up if you don't have one), click "Companies" at the top, then "Add a Company". Enter your company information to start your page and
establish your presence on the world's largest professional network.
Share status updates (a great way to spark up a conversation with your followers) or post articles, videos, or job openings. Customers can even write recommendations on your services and products. In addition to engaging with members, spend some time exploring LinkedIn's groups - over one million of them! You're sure to find something relevant to your industry, geographical area, or interests. 
LinkedIn also offers their own analytics, so you can track your total number of visitors and their demographics, the total number of page views, and more. 
For more information, check out our full article on the benefits of using LinkedIn for personal or business accounts.
See what a LinkedIn company page looks like in action. Click the image below to visit ours (and follow us while you're there!):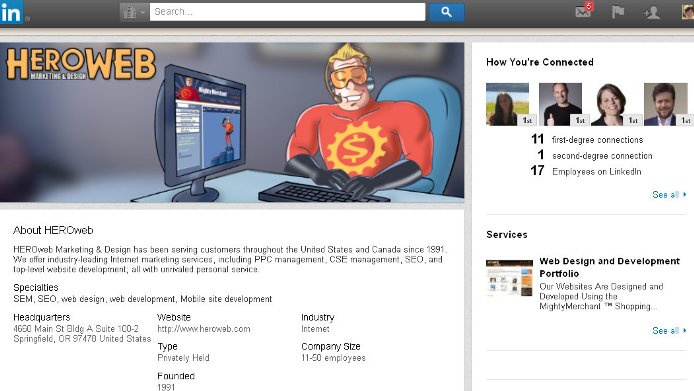 Subscribe Now
---
About the Marketing Bite
Marketing Bites are short actionable tips to help you market your business. Each Bite contains a marketing idea and an easy to complete action. The Marketing Bite is emailed weekly to subscribers.
Readers say...
"You offer such great information - I feel like I am gaining a bigger and smarter marketing presence. Thank you so much!" -Pamela
"Thanks. I have been getting a lot of value from [the Marketing Bite]. If I need help with marketing on the web in the future, I know where to find the experts." -Jodi