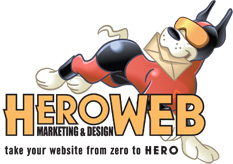 SiteBeat: April 2009
The HEROweb Marketing and Design Newsletter
HEROweb.com · MightyMerchant.com April 2009
Greetings, once again, from HEROweb/MightyMerchant!
After a several month hiatus, we are back at you with SiteBeat. We assure you that the recent absence of our newsletter is not an indication of our decline. On the contrary, we have been going full-tilt to keep many new initiatives moving forward smoothly and the newsletter has taken a back seat to some of our other priorities.
Be sure to read the important notice below about next week's Firewall upgrade.
In coming months, we will be taking a slightly different approach on the newsletter by keeping it a little shorter and more frequent. Each issue will highlight a new feature we are rolling out.
In This Issue
Firewall Upgrade Notice
Customized Product Feeds
An Opportunity to Help Kids in Iraq
Welcoming New HEROweb/MightyMerchant Clients
Firewall Upgrade
Between 12am and 2am Pacific Time on April 14th we will be upgrading to a new firewall. Our servers will be down for up to an hour during this time window. We will do our best to minimize the downtime. The firewall adds an additional level of traffic filtering and monitoring for our servers and is one of several security measures we are putting in place in the coming months. Please let us know if you have any questions or concerns about this upgrade. For the small number of customers who use ftp access for our servers, we will contact you with some additional instructions.
New Feature: Customized Product Feeds
We are excited about our recently released upgrade to our MightyMerchant Product Feed Engine. What is a product feed engine you ask? Many sites, including Google, offer comparison shopping features that allow shoppers to view and sort through products by a range of criteria. A product feed is a specifically formatted file describing your product line that you can send to these sites so they will list your products. Some comparison shopping sites allow you to list your products for free; many have a per-click charge when a shopper clicks on one of your products to go to your site.
Our new customized product feed makes it possible for us to create output files of your products in a range of formats. If you would like to include your products on another shopping site, we can likely do it! You can check out some more details about our product feed on our blog:
http://blog.mightymerchant.com/2009/03/05/custom-product-feeds/

An Opportunity to Help Kids in Iraq

We have a truly global business. One of our customers, Lawrence Peter, works in Iraq and wrote to me about the dire situation for orphans in the Northern region of Mosul. These kids are in need of the most basic clothing items. If you have any kids clothing, socks, or shoes, and would otherwise send them off to Goodwill, consider helping out these kids who are desperately in need. Every donation will be used and appreciated. If you are interested or are part of an organization that would like to help, you can send donations to:

S. Bott, PhD
PRT Ninewa - Mosul
FOB Marez
APO AE 09334
Welcoming New HEROweb/MightyMerchant Clients

And finally, we would like to welcome our new customers whose sites have gone online in the past month.

CraftsFeathersFloral.com - Every type of craft supply imagineable!

LittleBambooBaby.com - A great selection of eco-friendly baby products.

ACSProcessing.com - A merchant account provider based right here in Springfield, OR.

SWVetClinic.com - A Veterinary Clinic in Creswell Oregon.

EnerchiLivingSpaces.com - Products and furniture designed to help you create peace and tranquility in your home.

CGFarmhouse.com - Makers of organic stone-milled bread. Yummy!

Tubbyusa.com - If you need to refinish your bathtub, this is the site for you!

TheProtectionPros.com - a full range of security and protection products.
Thanks for checking out SiteBeat. We value your business and look forward to hearing from you on ways we can serve you better.

Thank you, from all of us here at the HEROweb/MightyMerchant team!