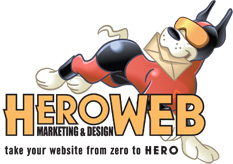 SiteBeat: April 2012
The HEROweb Marketing and Design Newsletter
HEROweb.com · MightyMerchant.com
We've published a slightly longer-than-usual newsletter this month because there's so much exciting information to share!
We're excited about three big events we have planned for upcoming months. The first two are free educational events planned for April: a webinar and talk (actually taking place today!) about running your own Pay-Per-Click campaigns. Mark your calendars and be a HERO this Labor Day and dash for a cause as HEROweb hosts our first-ever 5k community run/walk at Alton Baker Park. Also, we're moving to new offices!
Upcoming Talks and Webinars
Two Free Educational Events in April
1. PPC Campaign Management Primer: TODAY!
Our free webinar on Pay-Per-Click campaign management is taking place
this morning
(April 17) from 11 am to noon, and
there's still space to join us!
Register Now
to learn the basics of setting up and managing a PPC campaign using Google Adwords. Michael Stearns, HEROweb's CEO and Marketing Manager, will lead you through some of the key features of Google Adwords as well as some of the important decisions you need to make when running a PPC campaign.
2. Marketing Bites - Monthly Talks: Running Profitable Paid Marketing Campaigns
If you can't join us for this Webinar AND you're in our local area in the Pacific Northwest, join us for our free
Marketing Bites - Monthly Talks: Running Profitable Paid Marketing Campaigns
, Tuesday, April 24, 2012, 6:00 - 7:30pm in the Singer Room at the Eugene Public Library in Downtown Eugene.
Register Now
to attend this talk. Anyone who pre-registers and brings a friend is eligible to win a prize drawing for a free 90-minute web marketing consultation!
PayPal Maintenance April 19
PayPal has announced that they will be undertaking an upgrade to their data center on April 19. this may impact the availability of the service.
We recommend to all of our customers that are using PayPal's service to disable PayPal during the time their system is down, or to put a note on your site explaining that PayPal is down and the customer should come back to complete payment.
PayPal has provided a
link to the activity timeline
when service will be disrupted.
New Feature: Optimized URLs
MightyMerchant now has a new optimized URLs feature, which allows for
shortened, streamlined URLs
.
The optimized URL feature gives our customers complete control over the wording of their URLs. The root domain (your website name) will always be the same, but the extension of the URL can be modified, so the appearance of the optimized URLs is shorter, more streamlined, and easier to read. It is easier to send a link to someone, and it includes the important keywords right in the URL, which make it easier for the search engines to know what your pages are about.
For instance: If you sell soccer balls, your original URL might look like this:
http://www.yourdomain.com/home/yd1/smartlist_14/soccer_balls.html
With the new custom file name feature you can rename the URL to be:
http://www.yourdomain.com/soccer_balls
This new feature is available to users of version 4.4 of the MightyMerchant eCommerce platform.We've developed a system for transitioning your current URLs to the optimized URLs with no loss of search placement. Visit our
Optimized URL Upgrade Page
for more information.
Announcing the HERO Dash - Be a HERO this Labor Day Weekend
HEROweb and several community partners will host a fun-filled event at Alton Baker Park, our first annual community race and benefit -- The HERO Dash!
Alton Baker Park will host a gathering of superHEROes on Sunday, September 2, when community members (that means YOU, your family, and your co-workers) don their favorite HERO costumes (optional but highly encouraged!) and Dash for a cause. The family friendly 5K run/walk will feature (drum roll please) our own company mascot, who is training hard for this big event and will be there in-person, to join participants on the beautiful, scenic course through the park, along the bike paths of the Willamette River. Click for a PDF of our
5K Alton Baker Park Course Map
.
Dash for a Cause
We've contracted with
Eclectic Edge Racing
and have been working closely with William Wyckoff on the event details and logistics. Registration fees, sponsorships, and pledges (after cost) will go directly to an important cause in our local community. We will invite nominations for the local cause YOU want us to support on Facebook this spring - we'll keep you posted.
We need YOUR help!
Become a HERO Dash Sponsor
and YOU can help with cash and/or in-kind support by providing prizes for Dash participants and attendees, our financial beneficiary and more! Fantastic promotional benefits for all sponsorship levels! With all of these various opportunities for community engagement and partnership, we hope that you will accept our offer to join us and
be a HERO this Labor Day Weekend and Dash for a cause
(online registration opens soon). We also hope you'll consider becoming a HERO Dash Sponsor. Fill out our
Dash Partnership Form
at and we'll be in touch!
For more information and updates, visit our page about
The HERO Dash
.
We're Relocating Our Offices
HEROweb continues to grow! We're happy to announce that we are relocating! This time though, the move is just across the parking lot, as we are staying in the same office complex where we currently are. (If anyone wants to help us carry boxes across the parking lot, just come on over!) The move to a bigger space from Building D to Building A will allow us to accommodate more staff and continue to grow our business and services.
Only our physical address will be changing--
the new address is 4660 Main Street, Building A, Suite 100-2, Springfield, Oregon 97478
. You will still be able to call us at the same phone numbers. The move will take place over the weekend of the last week of April.
There should be no disruption to any services, but on the Monday following the move things in our new office could be a little hectic!
Recent HEROweb Site Launches
Check out the latest sites to go live!
Here at HEROweb, we build long-lasting relationships with our customers -- and our relationship with clients of ours who embark upon a site redesign is an example of the growth cycle we like to encourage. It is important to evaluate your site as a whole every year or two.
Businesses are constantly growing and evolving, and sometimes this involves a new look, new focus, goals, mission, etc. And if you've got a successful online hub to draw in and engage your customers, you need to make sure it's fresh, up-to-date and maximizing your message. So, this involves giving your site a virtual facelift every once in awhile. (And golly, do we think our
redesigned websites
look great!)
Redesigned Sites
BirdieManCustomClubs.com
- Every golfer is different. Shouldn't your golf clubs be different too? When anything is custom-made, like Birdie Man's beautiful golf clubs, there are no shortage of complex options and choices to be made. The redesign that site owner Don chose allows him to make the fairly complex process of custom club ordering into a simple, seamless process from the perspective of both his business, and his customers.
PondBiz.com
- Pond Biz redesigned their website, featuring a large selection of pond products, to be easier to navigate and more focused on new items. They've implemented a loyalty program for frequent customers, and send out a monthly newsletter every month with discounts and pond care tips.
New Sites
DaichiLandscape.com
  - Daichi Landscape is the first of our new
local contractor's package sites
to go live. These sites are highly focused on one industry or service and developed with local business in mind. Owner Jim Robinson is talented and highly trained in both landscape design and landscape construction with a modern, Japanese-style aesthetic.
MidValleyMetals.com
- Mid Valley Metals offers precision metal fabrication with a philosophy of the "right cut," the "right price," and delivered "right now."
ShopK12.com
- As the name suggests, ShopK12.com provides teaching tools and software for educators and parents of school-age children.
Customer Profile: LoveYourPets.com
An entreprenurial husband and wife team opened an engraving business, and after many years of hard work, turned that into a successful pet ID tag business. These days, their tags are used for pets, luggage, people and other creative uses.

Read the full profile on our site.