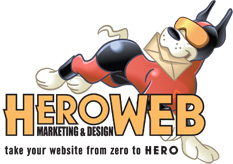 SiteBeat: April 2015
The HEROweb Marketing and Design Newsletter
HEROweb.com · MightyMerchant.com April 2015
Greetings from the team at HEROweb!
As the percentage of mobile users continues to grow and now that Google is using mobile performance as a key ranking factor, you will want to consider whether the time is right to upgrade your site so it is "mobile-friendly." HEROweb's mobile responsive framework has been a key focus of our software development in recent years, and we are excited about the new capabilities we can offer to help you compete in a mobile world!
Read on to learn more about mobile websites and see some of the newest developments at HEROweb.
In This Issue
HEROweb's Policy on Responding to Requests from Third Parties
We realize many of our customers work with outside designers, marketers, or technical consultants. We are always happy to work with any members of your team to improve your site. However, we will never talk with or provide information about your website with any new contacts (including new staff members) until we first get permission from you, the site owner, or a known member of your staff. This policy is to protect your interests and ensure that nothing is done to your website that you are unaware of.
This and other important customer information can be found in the Customer Resources section of our website.
MightyMerchant Feature Highlight: Send-a-Quote Feature
Our Send-a-Quote feature is now integrated with all MightyMerchant v5 mobile responsive sites! The Send-a-Quote feature enables you, the site owner, to add items to an order and then email a quote to a customer based on that order. The email quote will include a link directly to the View Cart page, already populated with items and pricing, so the customer can proceed directly to checkout without any additional steps.

The Send-a-Quote feature is accessible by clicking the "Send Quote to Customer" button (visible only when you are logged into the Site Manager) on the View Cart page. Once you click the button, you will be able to send an email to your customer with a custom note and a link to view their pre-populated order on your site.

Screenshot of the bottom of the View Cart page. The "Send Quote to Customer" button is circled in red.
Do You Need a Mobile-Friendly Website?
Google announced on Feb 21 that they would start using mobile-friendliness as a ranking signal and on April 21 rolled out their new algorithm related to mobile searches.
There is no question that having a site that works well on mobile devices is important. It is also important to note that Google's change likely will only impact traffic coming from people searching on mobile devices. It should not impact traffic coming from traditional desktop searches.
We recommend that you understand how to use Google Analytics to determine what percentage of your traffic does come from mobile devices and whether it makes sense for you to deploy a mobile site. Our article "Checking Your Percentage of Mobile Users" includes instructions on how to access these statistics.
HEROweb has invested a consider amount of our time over the past two years developing what is called a "mobile responsive framework" to ensure all of the new website we develop are mobile-friendly.
If you need help understanding how much mobile traffic you are receiving or how to upgrade your website so it is mobile-friendly, please let us know.
Documentation Update: UPS, FedEx, USPS Shipping Integration
MightyMerchant v5 includes a new shipping module with automated UPS, USPS, and FedEx integration. Integrating your website with any of these shipping services allows your website to calculate shipping rates using realtime rates from the shipping service you have selected.

As part of our ongoing updates to our support documentation, we have expanded and updated our instructions for setting up UPS, USPS, and FedEx integration. To learn how you can set up integrated shipping on your version 5 website, please visit our support site documentation on Setting Up Shipping in v5.0+
New and Featured Sites - April 2015
We are pleased to announce the launch of 8 new websites and mobile redesigns since our last newsletter in March!
We would like to welcome these new customers...
http://www.cedaridgenursery.com - Cedar Ridge Nursery, Inc. in Pennsylvania is a landscape contracting company that also supplies nursery stock to wholesale customers. As part of their landscape contracting business, they offer design services and construction services, including drainage improvements, outdoor lighting installation, and comprehensive job site management. They also specialize in large tree transplantation.
http://www.fergusonequipment.com - Ferguson Loading Dock Equipment provides the Northwest U.S. with loading dock equipment, custom loading dock installations, and equipment servicing. Their service options include scheduled preventative maintenance, in addition to on-site repairs and installations.
http://www.justmovestudio.com - Just Move Studio in Pleasant Hill, Oregon offers a variety of dance, fitness, and yoga classes for all levels of experience. The Studio has an on-site massage therapist, and offers health and fitness products, clothing, and more in the Just Move Boutique and Gift Shop. Their website includes an embedded Google Calendar.
http://www.propondswest.com - Pro Ponds West distributes a wide range of Aquascape products, from Pond kits, pumps and pond filtration supplies to plant and fish care products. Their research and development team tests their products in the field to ensure their quality, drawing from over twelve years experience building personalized ponds and waterfalls in California.

…And we would like to feature these long-time customers who have recently upgraded to our mobile responsive framework:
http://www.silverfire.us - SilverFire specializes in disaster and recreation stoves, ovens, solar cookers, and specialty cookware. Their clean cooking equipment runs on free fuels such as biomass, twigs, and sunlight. They supply retail and wholesale customers, and have a humanitarian stove project pricing program available for humanitarian projects.
http://www.abe-online.com - Advantage Business Equipment offers paper-handling office machines and supplies, including paper and cardboard shredders, form bursters, and paper folding machines, as well as expert advice. They are also an authorized supplier for GSA Federal Supply Service.
http://www.gutsandglorytennis.com - Guts & Glory Tennis sells tennis supplies, apparel, gifts, and novelties, as well as offering racquet vitalization services including stringing and grip repair for their customer base in the Atlanta area.
http://www.denlorstools.com - Denlors Tools ship professional automotive tools and shop equipment across the U.S. at discount prices. In addition to their online tool catalog, their website also includes a number of how-to auto repair articles.