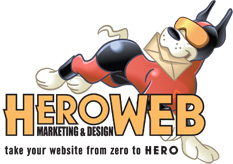 SiteBeat: August 2009
The HEROweb Marketing and Design Newsletter
HEROweb.com · MightyMerchant.com August 2009
Greetings from HEROweb/MightyMerchant
,
With the sun out and summer in full swing, it's hard to envision the Holiday Season waiting just around the corner, but planning for it now will ensure your success in the next few crucial months. HEROweb offers several services and opportunities to get you prepared and ready for the busiest time of the year.
Read on for our new feature for the month, marketing services, and announcements.
Thank you for reading SiteBeat!
Get ready for the Holidays
Plan Ahead
If you want to make changes to your site, do it now! Keep your site updated and fresh for the holiday season. Think about what specials you want to offer for the holidays. Advertise these on your site, in your newsletter, and elsewhere where your customers will see them. Keeping up to date will get your customers excited about buying.
Marketing Opportunities
As you ramp up for the holiday season, it is a good time to evaluate the marketing channels at your disposal and which are most effective. Our blossoming marketing department is primed to help you with this evaluation by offering services such as pay-per-click advertising, comparison shopping feed management, and search engine optimization.
With the influx of active buyers during the Holiday Season, it's the perfect time to pump up your marketing efforts. Let us set up a Google AdWords campaign or a comparison shopping feed. The increase in traffic to your website will not only put a jolt into its revenue stream, but your overall return on investment!
Set it up now when people are actively looking for you. With more people browsing, this is an opportunity to get your name out to a wider audience.
Contact us with an email or phone call to get started with any of our marketing services or for more information
HEROweb to teach business classes this fall
For the past two semesters HEROweb has taught the "Making Your Mark Online" business class at the Lane Community College Business Development Center. This 4-week class covers the basics of developing a winning online business strategy.
We will continue the class this year and also teach an additional class: "Online Marketing- Covering All the Bases." This class is a 6-week comprehensive marketing overview.
The classes will begin in October and meet once a week.
See Powerpoint presentations and course materials for "Making Your Mark Online" at hero-web.com.

To sign up for the classes and
for more information on the dates and times go to the LCC Business Development Center web site.

If you are not local or cannot attend the classes keep an eye out for videos of similar presentations, which we will be posting online in the near future.
New Feature: Pay to Download

Consider this feature for MP3s, eBooks, or whatever other digital files you might want to sell! As the name implies, the Pay to Download Feature allows customers to buy digital files and conveniently download them straight from your web site onto their computer. Contact us to learn more or if you would like to implement this new feature on your site.
Getting Your Feet Wet With Social Media- Watch the video now

On June 23, Michael Stearns, co-owner of HEROweb, gave a presentation on getting started with Social Media. We have posted a video of the presentation online for those of you who missed out!
Click here to view the video and learn valuable tips on increasing your online presence with Social Media.

Stay tuned for more video presentations to come!
Welcoming New HEROweb/MightyMerchant Clients

And finally, we would like to welcome our new customers whose sites have gone online in the past month.
PondMasterStore.com
- An independant dealer for Pondmaster products. (redesign)
EugeneTextileCenter.com
- Offers fiber art classes and provides materials and equipment to individuals in the community.
Oil2Ink.com
- Art and tattoo supplies with great wholesale prices.
Thanks for checking out SiteBeat. We value your business and look forward to hearing from you about how we can serve you better.