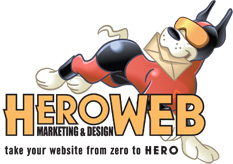 SiteBeat: August 2010
The HEROweb Marketing and Design Newsletter
HEROweb.com · MightyMerchant.com August 2010
Greetings from HEROweb Marketing and Design
It has been awhile since you have heard from us, but it is not because we've been slacking off. In the last few months we have churned out over 30 new web sites and welcomed two new members to the HEROweb team.
Now we are back with our newsletter to deliver important tips and announcements geared toward helping you build your online revenue. Read on to catch up with the latest news and learn how you can win a month of free hosting.
As always, thank you for reading SiteBeat!
Introducing Marketing Bites
Having received feedback from quite a few of our customers that they don't often have time to read through our email newsletters, we are launching a more concise weekly email called "Marketing Bites". Each email will contain a quick marketing tip that you should be able to take action on to improve your web marketing efforts. We hope you find these tips valuable!
Protect Yourself from Fraudulent Orders
We have seen an uptick in the past few months of customers having problems with fraudulent orders. We have revised the information on our website with important tips. Having an order monitoring routine in place is critical to ferreting out problem orders.
Read more about catching order fraud
.
New Service: Semi-Dedicated Servers!

Though many of us are still struggling through this tough economic time, we are pleased to see the growth that some of our clients are experiencing with their web businesses. We are happy to announce a new Semi-Dedicated Server offering.
We now offer semi-dedicated servers to address the needs of site owners with a heavy traffic load. Our semi-dedicated servers operate with a strict cap on the number of sites and overall bandwidth and result in better performance for high-traffic sites. This will improve your site's performance and keep your customers 100 percent satisfied.
To learn more click here.
Mobile Email Access Made Easy
HEROweb offers comprehensive webmail services that you may not be taking full advantage of! Did you know that you can check your webmail from your IPhone, Android, Blackberry, or any other smartphone?
You can check your email on the go with HEROweb's mobile support for smartphones.
Click here to read the documentation and have your email set up on your phone in minutes.

HEROweb Welcomes Nekhia Christian & Robert Asumendi to the Team
!
We are pleased to introduce our new hires and expert web developers, Nekhia Christian and Robert Asumendi.

Nekhia Christian
Nekhia has over 10 years of experience in web site design and internet marketing. His entrepreneurial spirit has led him to build his own successful web business.
To learn more about Nekhia click here
.
Robert Asumendi
Robert has a background in all aspects of web development including brand identity, print design, art direction, packaging, and promotional merchandising. We also hear that he is a talented salsa dancer!
To learn more about Robert click here.
"Like" our HEROweb Facebook page and automatically enter to win a MONTH of FREE HOSTING plus a complimentary HEROweb T-shirt
.
Click here to visit our HEROweb Facebook page and hit the "Like" button.
If you don't have a Facebook account, you will first have to
click here to create an account
. If you are already a fan you are automatically entered into the drawing. We will draw the winner on August 13!
Does your business have a Facebook page?
Contact us and we will add your page to our page's favorites!
Welcoming New HEROweb/MightyMerchant Clients
Here they are! Have a look at the 30 most recent websites we have developed. There is a great diversity of products and businesses. Support our Mighty Merchants!
February
SaintFrancisVeils.com
FunEducationalSolutions.com
Imaginegraphics.net
(redesign)
CyprianaBaby.com
AMLiving.com.au

March

Mckenzie-Pediatrics.com
(redesign)
NaturesAquatics.com