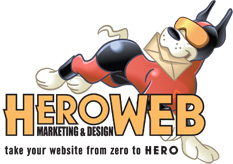 SiteBeat: August 2010 - Part 2
The HEROweb Marketing and Design Newsletter
HEROweb.com · MightyMerchant.com August 2010 - Part 2
Greetings from HEROweb Marketing and Design
Wait a minute. Didn't you already hear from us this month? Well, yes, but we have so much happening we decided to squeeze in the August newsletter, PART 2. We just couldn't wait to share some of the great things happening at HEROweb, such as our new video services and our first ever can't-afford-to-miss-it webinar!
Thank you for reading SiteBeat!
We do video.
Draw attention to your site and give it a super slick appearance with a video. It's not out of reach for you to display a high quality video on your web site. Don't know where to start? Well HEROweb is proud to announce our new video services. We now have an in-office video studio. Give us a call (541-746-6418) and we'll work with you to create video content that will give your web site an extra punch.
Click here to view some of our videos.

Help us help you by taking our Survey. Answer 5 questions and receive an all expenses paid trip to Las Vegas!
Okay, Okay, maybe the trip to Vegas is a bit of an exaggeration. But we really do want your feedback about our services and the first 5 respondents will receive a $10 Starbucks gift card.
Please click here to take this super-quick 5 question survey
about your experience using the MightyMerchant Site Manager. We will use your feedback to make improvements in the future.
HEROweb to host webinars, starting October, 5 2010 at 10 am PST
.
Join in for an interactive and informative talk on utilizing the advanced product options in the MightyMerchant Site Manager. Are you taking full advantage of our powerful site manager? Find out tips and tricks at 10:00 am PST.
Click this link to reserve your seat (It's free!)
You will be able to join the webinar on October 5th so mark your calendars.
Bing-Yahoo changes you should be aware of.
Microsoft's new search engine, Bing, is gaining momentum, especially with the recent deal between Yahoo and Microsoft. Microsoft's Bing search engine now powers Yahoo's search engine. This greatly expands Bing's audience and also brings Bing scores of new advertisers, some of whom are working with our marketing team!
In October 2010, Yahoo ad campaigns will be switched to Microsoft's ad manager. For advertisers on Yahoo you will need to import your Yahoo data into the Bing ad manager. The Yahoo Transition Center will help you with this change.
Click here to go to the Yahoo Transition Center's website
to stay informed on the upcoming change.
And the winner is...

Georg Adelt of
HighCountryExpeditions.com
is the winner of last month's drawing for our Facebook Fans. He will receive one month of free hosting and a HEROweb t-shirt. Thank you to everyone who became our fan on Facebook.
Don't miss out on HEROweb's future promotions on Facebook.
Click here to become a fan now
. (Be sure to click the "Like" button at the top of the page.)
From all of us on the HEROweb Marketing and Design team -
Thanks for checking out SiteBeat. We look forward to helping your online business succeed in meeting your goals in 2010!