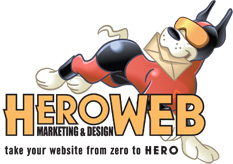 SiteBeat: August 2011
The HEROweb Marketing and Design Newsletter
HEROweb.com · MightyMerchant.com SiteBeat Newsletter– August 2011
Last month we encouraged customers to give their input on our newsletter. We only received three comments. One comment being that there is rarely anything of use in our newsletter! As we continually speak with customers who reference our newsletter, we are going to take the optimistic view that late July is not a good time to elicit feedback. But the fact is we want to understand the best way to inform our clients. Please let us know if you have suggestions. You can use the comments section of the
web version of this newsletter
, or, you can always email us.
In This Issue
Webinar on August 23rd: Advanced Techniques with Google Analytics Version 5
On August 23, Michael Stearns will host a webinar on using some of the advanced features in Google Analytics Version 5. Click here to join us for this free and informative discussion.
Announcing the NEW MightyMerchant Sale Manager
We have launched the new MightyMerchant Sale Manager, an easy-to-use tool that gives you product-level control over coupons and sales on your site. The MightyMerchant Sale Manager includes a variety of options to customize your sale and gives you control over duration, one-time coupons, sales on individual products, and more.
Visit our website for more information about the Sale Manager and to request this feature.
Google Adwords Express– Start Advertising Locally in Minutes
Google has launched Adwords Express, a new location-based advertising tool that is quick and easy to get started with. Simply enter information about your business and Google will display your ad when users make local searches on the web or using Google maps. You only pay when someone clicks the ad. Set your advertising budget, enter your Business information and Google will take care of the rest. This could be a great program for you if you have a local customer base. Contact us if you need help setting this up or click here to visit the Google Adwords Express page for more information.
Introducing New HEROweb Customers
GraphicsExpress.com– This family owned and operated business makes quality licensed garage signs and t-shirts.
ShopLuxeGifts.com– Luxe Gifts is a little boutique gift store filled to the brim with an eclectic mix of gifts and accessories for you to enjoy.
Relique-US.com– Wholesale designer scarves inspired by contemporary global design and traditional artistry.