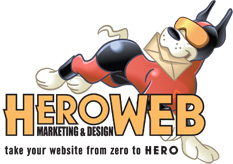 SiteBeat: August 2015
The HEROweb Marketing and Design Newsletter
HEROweb.com · MightyMerchant.com August 2015
Greetings from HEROweb.
Sometimes it feels like Halloween decorations creep into stores earlier and earlier every year. It seems strange to be thinking about the holidays at this time of year, but in reality, for your own successful season of holiday marketing, your planning should start by Labor Day! To help you get ready for the months ahead, we've assembled a collection of articles and important information. You can read more below in the section titled "Holiday Shopping Preparation."
So, as we wish you a happy Labor Day weekend, we also wish you a strong kick-off to your holiday marketing preparations!
In This Issue
Upgrading: What You Need to Know
At HEROweb, we are continually improving and evolving our MightyMerchant platform, and our way of moving the platform forward is to release to versions of MightyMerchant.
Our customers often ask us what is involved in the process of upgrading their site to a newer version of MightyMerchant. To help answer your questions about the time involved, the cost, and more, we've prepared this article on Upgrading to a New Version of MightyMerchant.
Holiday Shopping Preparation
The holidays may seem like they are still far away, but starting to prepare for your holiday ecommerce season now means less stress and better marketing strategies when the holiday season is upon us.
We've assembled a Holiday eCommerce Guide with key dates, tips, concrete strategies, and a handy checklist to help you whip your site and marketing plan into shape for this year's holiday season.
Thanks for Your Webhelp Feedback
We want to thank all of you who've taken the time to give us honest feedback on our webhelp support responses! To help us hone our support skills, it's vital to know what works for you, and what doesn't.
To offer feedback on your next webhelp communication with us, just make a selection under "How Would You Rate my Reply" at the bottom of any support email response.
New Feature: Captcha-less Submission Forms
In recent months, we have moved away from using Captcha for form verification. On new and recently redesigned sites, we've been using a hidden code to thwart spammers. This new method works very well, and has the added benefit of being less demanding on the real users of your website! We are adding Hidden Field verification to all new sites. If you are interested in having this feature added to your site, let us know.
New and Featured Sites - August 2015

We are pleased to announce the launch of one new site and four mobile responsive redesigns!

www.abe-online.com - Advantage Business Equipment, supplier of business office equipment from paper shredders to check signers, has a fresh face to show the world! Their redesigned site features a per-category Top Sellers sidebar, and uses our MightyMerchant Mini-Blog feature.

www.artisticcustomsandcollision.com - Artistic Customs and Collision, based in Jasper/Pleasant Hill, Oregon, offers classic car restoration and collision repair. Click through their Portfolio categories for a look at their gleaming finished vehicles and behind-the-scenes restoration process.
www.craftsfeathersfloral.com
- Crafts Feathers Floral is a retail website that offers feathers
and other craft materials as well as finished craft items for every
season or occasion.

www.menushoppe.com - The Menu Shoppe is your source for durable menu covers, inserts, and related supplies, with personalization options including foil stamping and debossing. Their redesigned website has a rotating testimonial on the homepage, and a menu cover search tool to help you quickly narrow your search based on specific characteristics.

www.midwestdesignimports.com - Midwest Design Imports is a wholesale distributor of hundreds of craft and fashion items, from blown glass containers to feather boas and fairy garden supplies.