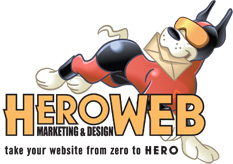 SiteBeat: December, 2010
The HEROweb Marketing and Design Newsletter
HEROweb.com · MightyMerchant.com December, 2010
Greetings.
As we head into the final weeks of 2010, we would like to send you our best wishes for the holidays. This year has been a challenging one to be in business. So, if you have made it through the year and are still standing and still smiling - give yourself a hearty pat on the back.
The web business has evolved quite a bit since we got started about 15 years ago. With the explosion of social media in the past two years, the already rapid rate of change has seemed to accelerate. HEROweb has been working hard over the past 12 months to put a team in place that can support our customers' needs and give them a strategic advantage in a competitive and ever-changing marketplace. We look forward to working with you in 2011 and the years to come to as you build your online business.
The past month has included an interesting milestone for HEROweb. Two of our original customers - Educators Travel Network and US Compliance Systems - have returned to the MightyMerchant platform after moving away for several years. Getting reacquainted with old friends and customers has a special significance for us. And we are thrilled to be able to help these great businesses innovate and move there websites forward into the future.
Whether you are a brand new business or have been around the block a few times, we are happy to be working with you. Lets gear up for a great 2011!
~ Staci and Michael
Still Time to Register for FREE December Webinar!
Join Michael Stearns for a closer look at Google Analytics, a powerful tool that allows you to measure your advertising Return On Investment (ROI) and can help you make profitable decisions for your business.
"Using Google Analytics" Wednesday, December 8, 2010 at 1:00 pm PST.
Register today!
Local User Group - What Do You Think?
We would like to start a Local User Group for our users in the Lane County area. HEROweb will present key topics related to the MightyMerchant platform and doing business online and users will be able to share and learn from each other.
We want to get a sense of who is interested.
Let us know if you would like to attend!
One Week Left to Enter "Name the Pup" Contest
Last month we announced a contest to find a name for our HEROweb mascot. We have received some great entries thus far, and are excited to see what you can come up with in this final week!
The contest closes on December 14, 2010. The winner will be contacted on December 15, 2010.
Submit your suggestions by filling out the
Name-the-Pup Form
on our website. Remember, if you come up with the winning name, we'll give you a $100 gift certificate to your choice of any online store using the MightyMerchant platform.
Visit our
MightyMerchant online stores
and start scoping out what you would buy with the prize money, just in time for the holidays!
Our Latest Work
As we mentioned earlier, we have developed two new websites for previous customers. Have a look!
EducatorsTravel.com
- An innovative and affordable way to travel.
USComplianceSystems.com
- Safety Programs for more than 50 Construction Trades.
From all of us on the HEROweb Marketing and Design team - Thanks for checking out SiteBeat. We look forward to helping your online business succeed in meeting your goals this holiday season and in the coming new year!
Makers of MightyMerchant Ecommerce Software - Fast, Flexible and Fun websites for Small Business -