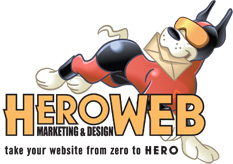 SiteBeat: December 2011
The HEROweb Marketing and Design Newsletter
HEROweb.com · MightyMerchant.com
It's hard to believe that this is our last SiteBeat for 2011. The year has gone by fast. While we know that running a business and managing your website presents daily challenges, we hope it is also a great experience for you.
To help you gain some momentum going into 2012, we have put together some excellent offers related to our development and marketing services. Read on to find out more.
The team at HEROweb would like to wish you a happy holidays and best wishes for a great New Year. Let's make 2012 an awesome and profitable year!
There's Still Time! New Year's Resolution Upgrade Offer
In the last issue, we introduced you to a special
New Year's Resolution Upgrade Offer
that we were extending to our customers. Sign up through Friday, December 30 to receive a valuable deal to have an upgrade of your choice implemented in January.
The Offers:
1. Sign up to add a new advanced feature and we will upgrade you to the most recent version of MightyMerchant Ecommerce Platform for free (some restrictions apply).
2. Sign up for Bing, Shopzilla, or other managed shopping feed service and we will waive the $150 set-up fee.
3. Sign up for a site makeover and receive three months free site management and hosting fees (some restrictions apply).
4. Sign up for a Wordpress blog and receive free blog setup, a $150 value.
5. Sign up for a PPC advertising campaign, and we will do our customer A/B testing implementation on your site for free, a $250 value.
6. Set up a customized Facebook fan page for 50% off.
Google Adwords - A Special Bonus
HEROweb has been building our Google Adwords campaign management services over the past three years and we are excited to start 2012 with two awesome specials:
1. We are offering two months of free campaign management services to all clients who sign up for our Adwords Management services in January 2012. That could amount to a huge savings!
2. For customers who have never tried Google Adwords, we have an extra-special offer: receive your first $100 of ad spend with Google for free. This offer applies only to new accounts and requires a three month commitment.
Please visit our site to learn about our
Google Adwords Specials for 2012
.
Tech Tip - Viewing Your Order Sources in the MightyMerchant Site Manager
Many of you are investing your time and money in web advertising or product feeds. Understanding which of your referral sources are converting into revenue is vital for the success of your business.
Head on over to the MightyMerchant Support for a
Quick Tip on tracking the referral sources
of your orders. 
Customer Spotlight: Swahili-Imports.com
Modern African Style: Swahili-Imports.com
Leslie Mittelberg founded
S
wahili Imports
in June 1995 in Eugene, Oregon, long before the terms "green" and "fair trade" became common parlance. She lived in Africa and fell in love with the people and the handmade goods that were commonplace there. Now, Swahili Imports is a leader in retailing and wholesaling handmade African goods while supporting the artisans at the same time.
Welcoming New HEROweb Customers
Check out the latest sites to go live!
KnightWatchOnline.com
- Knight Watch restores, customizes and sells vintage and antique watches. Site owner Michael Knight personally approves and warranties each watch sold.
MetroAffordableHousing.org
- This non-profit organization was founded in 1992 when a small group of citizens won a tax credit proposal to build a low-income affordable housing community. Metro is now a leader in affordable housing development in the Eugene/Springfield, Oregon, area.
UniversityFellowship.com
- University Fellowship is a worship community located in South Eugene, near the University of Oregon campus.
OWSA.net
- The website of the Oregon Women's Sailing Association supports local sailors and facilitates the participation of women in sailing and racing events in Oregon and Southwest Washington.