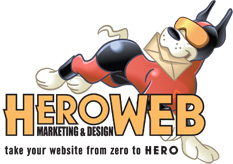 SiteBeat: December 2015
The HEROweb Marketing and Design Newsletter
HEROweb.com · MightyMerchant.com December 2015
Happy Holidays and Merry Christmas from HEROweb!
Our physical office will be closed next week, but we will still be taking support requests via WebHelp. Please feel free to submit your questions or requests to WebHelp, and we will get back to you in a timely manner.
We have several important tips for you in this month's SiteBeat. We particularly recommend that you review the first item on Resetting Your Site Manager Password. Security is an ever-important concern, and regularly resetting your password is one of the most basic and important ways to help keep your website secure.
Resetting Your Site Manager Password
If you still log in to your Site Manager with a generic, default password such as "admin," we ask that you take some time now to reset that password. Creating a hard-to-guess password is one of the simplest and most effective steps you can take to keep your website secure.

For a step-by-step guide on changing your Site Manager password, please view the "Change Your Password" section of our "Getting Started" documentation.

If you don't know your current Site Manager password, please contact us using our online Support Request Form. We cannot retrieve your password, but we can reset it for you.
Adjusting Your AVS Settings
The Address Verification System (AVS) is a tool designed to help you detect and decline fraudulent transactions. Every gateway provider has AVS settings with a range of options you can choose from, and these settings are a deciding factor in which orders your gateway accepts, and which ones it rejects.
To help you understand the basics of AVS and how it affects your website we recommend that you take a look at our documentation on Using Your Address Verification and Card Verification Settings.
Documentation Update: Sale and Coupon Manager Documentation
The MightyMerchant Sale and Coupon Manager is a powerful tool that allows you to create a wide variety of promotions, including coupon-based sales, timed sales, and "buy something get something free" sales. To help you get the maximum benefit out of your Sale and Coupon Manager, we have been expanding our Sale and Coupon Manager documentation.
Our documentation now offers step-by-step guides for creating specific sales, as well as in-depth tutorials covering each aspect of the sale creation process, from setup to testing.
Please visit our Support Site documentation on the Sale and Coupon Manager for instructions on implementing your next sale.
Tech Tip: Embedding YouTube Videos on Your Site
With the rise of the smartphone, videos are becoming increasingly easier to create, and they can be a great way to demo your product or service on your website or provide other valuable information to website visitors. Please visit our documentation on Posting Videos from YouTube to learn how to embed videos on your site.

In addition to YouTube's basic instructions, our updated documentation now includes a method for embedding videos that prevents YouTube's suggested videos from displaying at the end of your video. Because suggested videos can include content from your competitors, removing them from your embedded videos is a smart step to ensure that viewers' attention remains on your products, and your website.
New Sites and Mobile Redesigns
We're pleased this month to announce the launch of one new websites and and four mobile redesigns! We invite you to click through to the websites below to learn more about these members of our website family.
NW Craft
http://www.nw-craft.com
A vendor of beverages, food, and gifts from Northwest artisans with an emphasis on the hand-crafted and the organic.
Love Your Pets
http://www.loveyourpets.com
A vendor of customizable ID tags for pets, people, and belongings. Their redesigned website features a tag builder with a live preview so you can view your tag as you design it.
Birdieman Custom Clubs
http://www.birdiemancustomclubs.com
A creator of custom golf clubs, built to match your individual specifications and golfing style.
Cherry Country Orchard & Chocolate Factory
http://www.thecherrycountry.com
A producer of chocolate covered cherries, dried cherries, jams, and other sweet and savory treats. They do gift crates, too!
Molecat
http://www.molecat.com
Manufacturer of the MOLECAT pest exterminator, which kills burrowing pests on contact.