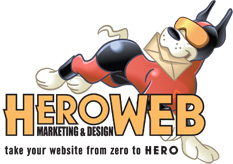 SiteBeat: February 2015
The HEROweb Marketing and Design Newsletter
HEROweb.com · MightyMerchant.com February 2015
Greetings from HEROweb.
In our hometown of Springfield, Oregon, I was driving down the street this past weekend and saw a little girl in a bikini running through the sprinkler. For Pete's sake, this is FEBRUARY! It is hard to reconcile this scene with the weather report I know that many of you Northeasterners are suffering through, including frigid temperatures and piles of snow. These are strange times we live in.
As with the past few SiteBeats, we are using this newsletter to draw attention to some new MightyMerchant features. You can expect that trend to continue as we roll out several key enhancements this year. So, if you want to keep up with the latest advances that we have to offer, SiteBeat is the place to do it!
Internet technology is constantly changing and evolving and we are working hard to stay abreast of new developments. This includes "responsive design" which makes your web site look great both on mobile devices and desktop computers. If your site was developed some time ago, you may want to upgrade to better serve the ever growing number of tablet and phone users who visit your web site. We've been working on improving our upgrade process to make the transition smooth and seamless for you and your site visitors. If you have questions about upgrading to the the latest version of MightyMerchant and transitioning to a mobile responsive design - give us a call.
Password Retrieval Feature for Email
For those of you who have email accounts through HEROweb, retrieving your password has become easier than ever! By adding a mobile phone number to your webmail account, you will now be able to receive a recovery code via text that allows you to reset your password. In order to set up this feature, you do need to know your current password. If you don't, send us an email at webhelp@heroweb.com, and we will be happy to help.

For detailed instructions on how to set up password retrieval, please view our password retrieval page.
Feature Spotlight: "How Many Fit in a Box" Shipping Feature
As we mentioned in last month's newsletter, we have recently rolled out a new shipping module, offering you more options, and greater accuracy in shipping calculations. Our new "How Many Fit in a Box" shipping feature, introduced in version 5 of the MightyMerchant Ecommerce Platform, is part of this update.


With this feature, you can specify on a per product basis how many of the item fit in a box. This makes it easy for you to adjust your shipping calculations according to UPS and FedEx's new shipping rates, which are now based on both weight and package size.
If your website is on version 5 and you would like to take advantage of this feature, please let us know, and we can set it up for you.
Feature Spotlight: Saved Orders
Our saved orders feature is new in version 4.7. For customers with accounts, this feature saves incomplete orders when the customer navigates away from the checkout process, and allows customers to access and complete these orders within 30 days. Saved orders are visible on the welcome page when a customer logs into their account. For security reasons, credit card information is not stored.
For a complete list of recent features, please visit new features list.
Domain Pricing 2/1/2015
We are updating our pricing in reflection of a global pricing update of the .NET domain. With our new pricing, annual .NET renewals cost $27.00, 3-year renewals cost $60.00 and 6-year renewals cost $109.00. The .NET transfer rate, which includes a one-year renewal, is increasing from $38.00 to $40.00.
The pricing for .COM and .ORG domain renewals and transfers remains the same.
Check Out New HEROweb Customers and Site Redesigns
Please take a look at some of our latest work and newest customers:
Leather Universe -- http://www.leatheruniverse.com sells high quality leather motorcycle apparel and accessories including helmets and gloves.
Future B Homes -- http://www.futurebhomes.com is a leading Lane County home builder and long-time customer at HEROweb. We completely redesigned their site, giving it a new look and mobile compatibility. Their new site features a full-width homepage slideshow showcasing their neighborhood and custom-designed homes.
SmithPollin Group -- http://www.smithpollin.com is a travel agency specializing in corporate cruises and events, as well as leisure travel. They offer travel solutions for a wide variety of occasions, including weddings, reunions, business team building trips, and ocean concerts. Their mobile responsive site has a resizing background image, and an automatically generated table of contents.
We are also excited to announce the mobile responsive redesign of U.S. Compliance Systems' site, http://uscompliancesystems.com/. U.S. Compliance Systems offers Safety Programs and Managed Safety Systems to assist contractors in meeting the requirements of the Occupational Safety and Health Review Commission.