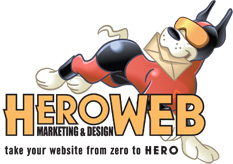 SiteBeat: January 2010
The HEROweb Marketing and Design Newsletter
HEROweb.com · MightyMerchant.com January 2010
Greetings from HEROweb Marketing and Design
Happy New Year!
The start of 2010 has been a busy one for the team here, complete with a number of new additions to our family of clients!
We're excited to have them all aboard and looking forward to a successful year ahead.
Please read on for a few tips and announcements from the team here at HEROweb.
And as always, thank you for reading SiteBeat!
Quick Tip: Your site's Thank You message
Are you thanking your customers after they've purchased a product from your site? If not, you should be!
If you are, what is your message saying? For example, a simple "Thanks for your order." just won't cut it these days.
With competition mounting almost daily for online dollars, the right thank you messaging to what could be lifetime customers is crucial (and simple!).
Your thank you message should offer a sincere message of thanks, a tip on using the product, and/or a coupon code for use on their next visit. You can also include a preview of upcoming products, a reminder to sign up for monthly specials notifications, or a heads-up that once the customer receives the product, that you would appreciate a review.
A strong thank you not only shows your appreciation of their business, but is also a perfect marketing tool to bring them back to your site!
FREE month of hosting winner announced!

Congratulations to Erika Leaf from Imagine Graphics, who is our winner of a free month of hosting!
Erika placed a great review of HEROweb on Google, and we thank her for the kind words!
Thanks to everyone who participated.
Remember to ask your clients for reviews, either directly on your site, your local online ads, or sites like Yelp.
Copyright Notice Automation
Do you have a copyright notice on your site? Do you ever forget to update the copyright year?
If you answered yes to these questions, we have an answer!
Simply give us a call and we'll place a small code on the site which will automatically update your copyright year...at NO cost!
Welcoming New HEROweb/MightyMerchant Clients
And finally, we would like to welcome our aforementioned new customers whose sites have gone online in the past month.
Chris51.com - Local artist, specializing in tattoos.
Jchristo.com - Fine furniture and cabinetry in the arts and crafts style.
Powerfuldistinctions.com - Words that help others really know you.
Blushbridaloregon.com - Women's gowns and men's formal wear.
Ctrealtyadvisors.com - Providing simple effective real estate counseling and asset management for local and international owners.
Smarteepantsclothing.com - Sassy, fashion-forward designed clothing for children of all ages.
From all of us on the HEROweb Marketing and Design team -
Thanks for checking out SiteBeat. We look forward to helping your online business succeed in meeting your goals in 2010!