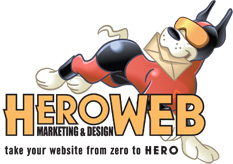 SiteBeat: January 2011
The HEROweb Marketing and Design Newsletter
HEROweb.com · MightyMerchant.com January 2011
Greetings!
It's a new year, and over at HEROweb we are as busy as ever. Keep yourself informed about announcements and tips by following us on
facebook
! And While you're there, if we have not added your business page as a favorite, let us know!
We try to communicate through many channels. You can also follow us on
Twitter
, visit our
blog
, subscribe to our Marketing Bites, and of course, read the SiteBeat!
Linkbuilding Strategies - The First Webinar of 2011
Linkbuilding is an important part of Search Engine Marketing, but one that can be quite challenging and time consuming. Join Michael Stearns for a look at linkbuilding strategies, and how you can use them to improve your search engine placement and drive traffic to your site.
"Link Building Strategies" Wednesday, January 26, 2011 at 10am PST.
Register today!
Featured Solution: Dynamic Visual Calendars
We have integrated MightyMerchant with a script that allows a calendar to be generated dynamically and creates a calendar tool on the front end of the site itself. To see an example, visit the MightyMerchant customer site
UTE1Stop.com
.
You always have the option of using a third party service - like Google Calendars, but the nifty thing about this feature, is that the items in the calendar can be maintained directly from your Site Manager and easily connected to other areas of your site.
Let us know if you would like to have a dynamic calendar on your website!
Tech Tip: Sending Bulk Emails
We feel great to be able to offer a world-class email system to our customers. Email is one of those things we all take for granted until it doesn't work!
One important aspect of our email system (and most other legitimate email systems) is that there is a limit to the number of recipients you can specify on a given email. In the case of our system, the limit is 250.
Strategies such as sending the same email to 1000 people across the span of 5 emails will not work. The system is smart enough to recognize multiple successive emails.
If you do wish to send bulk emails, there are better options! We highly recommend
Constant Contact
, which we use and know to be reliable.
If you don't have room in your budget for program like Constant Contact, why not try something like
Mail Chimp
, a service that has some free options for smaller email lists.
"WEBster" Chosen as Winning Name for HEROweb Pup
The "Name the Pup" contest yielded a number of
clever and entertaining entries
. We would like to congratulate John Youngblood of
GutsAndGloryTennis.com
, who was the first to submit the winning name, WEBster. He received $100.00 to spend at his choice of MightyMerchant stores. Happy shopping, John!
We would also like to congratulate Shannon Spencer of
Glasscraft.com
, John MacDougall of
MacDougallBats.com
, and Eileen Kearns of
JustLiving.com
. They also submitted the name "WEBster" just after John Youngblood. Each of them was offered a gift certificate to Dutch Bros. Coffee - Enjoy!
We appreciate everyone who participated. Thank you all for making this contest such a great success!
Keep an eye out for more fun contests coming soon!
Domain Change is Official
We have gone for the gusto and purchased the domain name: "HEROweb.com". This means we are putting to rest our hyphenated version, which we never really loved. So our new official home is
heroweb.com
! The old domain still works, but you can feel free to use the short and sweet version.
Our Latest Work
Check out the latest site to go live!
MacDougallBats.com
- Patent-Pending, Diamond-Tough Hardwood Baseball Bats
CityGrafx.com
- Restaurant Service and Table Top Items, In-Store Promotion, Marketing and Signage Products.
Store.Funnix.com
- A Tutor In Your Computer!