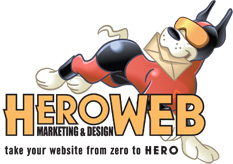 SiteBeat: January 2012
The HEROweb Marketing and Design Newsletter
HEROweb.com · MightyMerchant.com
Greetings from HEROweb Central!
We are off and running in 2012. We have been getting lots of questions about how to attract and utilize customer reviews. We have put together a comprehensive three-part series about reviews.
Please have a look at these informative articles along with some of our other special offers.
Pay-Per-Click Advertising Can and Does Work!
PPC advertising can help new businesses generate some initial traffic. It is also an excellent way for established ecommerce businesses to drive a continual flow of qualified customers.
HEROweb offers PPC campaign management services as well as a range of resources for the do-it-yourselfers. The
PPC Marketing Services page
on our site explains how we manage these campaigns.
If you're not sure if PPC is right for you or your business, get started with our informative page about
Determining Your Marketing Goal
. Determining a goal based on your gross expenses and profit margins is the first step for any business. Let us know how we can help!
Google Adwords Promotions
HEROweb has been building our Google Adwords campaign management services over the past three years and we are excited to start 2012 with two awesome specials:
1. We are offering two months of free campaign management services to all clients who sign up for our Adwords Management services. We're extending this offer to customers who sign up through the end of February 2012. That could amount to a huge savings!

2. For customers who have never tried Google Adwords, we have an extra-special offer: receive your first $100 of ad spend with Google for free. This offer applies only to new accounts and requires a three month commitment.
5 Days of Facebook Promotion
HEROweb is developing a "5 days of Facebook" campaign to help create some added awareness of our customers' websites via Facebook. Each day for 5 days HEROweb will post something related to a featured customer on HEROweb's Facebook fan page and related channels, highlighting some trivia or interesting tidbit about the company and its products or services. There is no charge for this promotion!
Reviews: Getting Reviews, Using Them, and Leveraging Them on Search Engines
Reviews--including how to get good ones, and how to use them to promote your business--is a huge topic. We have created a three-article series to help you understand the ins and outs of getting reviews and utilizing them to boost your business.
Visit our Learn Center to find out more about web-based reviews:
Farewell to Kathleen
We bid a fond farewell to Kathleen Boynton, who joined HEROweb as a web developer in October of 2006, more than five years ago. One of Kathleen's passions is geneology, and she has taken a job with Ancestry.com in Utah. As it turns out, Utah is a great place for her to return to school to study more about geneological research.

We will miss Kathleen sharing stories about her family and playing Speed Scrabble during lunch. We wish her the best in this exciting new opportunity she has in her life.
Customer Profile: Good Fibers
Barb Bertsch started GoodFibers.com the old-fashioned way . . . she attended business classes and started to develop knowledge about how to run her own business. She enlisted her whole family for help, and has steadily built her online business while she goes to work every day at her day job.
We are proud to share Barb's story in our most recent
HEROweb Customer Spotlight
.
Welcoming New HEROweb Customers
Check out the latest sites to go live!
HeartwoodCarving.com
- Master craftsman Joe Olma creates ornamental carvings and architectural detailing from fine hardwoods, in Eugene, Oregon.
HarlequinBeads.com
- Harlequin Beads and Jewelry was established as a full-service bead store in 1984, offering beading classes and an incredibly large selection of beads. With more than 10,000 to choose from, in all colors, shapes and sizes, including glass, bone, metal, and semi-precious stones, Harlequin is a resource for professional and hobbyist jewelry designers and artists.  
WeddingsByKAPArt.com
- A design boutique specializing in wedding invitations, programs and save the date cards.