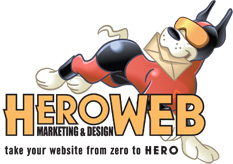 SiteBeat: January 2015
The HEROweb Marketing and Design Newsletter
HEROweb.com ∑ MightyMerchant.com January 2015
Happy 2015 from HEROweb! After a brief sabbatical, we are back with SiteBeat and are eager to be sharing monthly updates with you in the year ahead. We're hoping that you found some moments to relax and enjoy the season in the midst of the holiday rush.
In this month's newsletter, we've got an exciting announcement about our hosted email accounts, some notes about MightyMerchant feature updates, a review of 2014, and more.
MightyMerchant Platform - 2014 Recap
2014 was a banner year for the MightyMerchant Ecommerce Platform. We achieved these three development goals:
Transitioning MightyMerchant to our mobile responsive framework.
Converting our underlying templates to a system called Bootstrap.
Rolling out FedEx/USPS/UPS shipping integration in Version 5.0 of MightyMerchant.
Going forward, all new sites we develop will utilize our mobile responsive framework, which means that they are designed to look and work great on phones, tablets, and desktop browsers. The new templating system also offers a wide range of features that impact everything from data validation (making sure the user types in the right email address) to image display (which includes controls such as zoom and image swapping).
The rollout of our new shipping module has proven to be an exciting enhancement and also formidable challenge - as we have customers with such a wide range of shipping requirements. We are continuing to refine and enhance the shipping interface to provide the most accurate rates possible.
In 2015 we look forward to working with our entire customer base to help customers who would like to migrate to the new platform, and we will continue to refine the MightyMerchant Site Management environment to offer easier site updating and more refined control of your website. Whereas in past years, we devoted a segment of our business to offering marketing services, we are entirely focused on building and supporting our web platform at this time.
Here's to a fabulous 2015 to all members of the MightyMerchant family. We look forward to helping you advance your business in the year ahead.
Email Disk Quota - All Accounts Get 2 Gigabytes
Great news! We are upgrading all our customer email account quotas from 100 Megabytes to 2 Gigabytes. This means that you have much more email storage space, which is particularly nice if you are someone who often receives image attachments, large files, or a high volume of email. We still recommend that you empty the trash in your email program every once in a while, but the bottom line is, you have much more space to fill.
Software Feature List Now Posted on our Site
In response to several customer requests we have published a MightyMerchant New Feature List on our support site. We are constantly working to improve our software, and this list shows the new features we've added in the most recent versions of MightyMerchant.
We will continue to keep this page updated as we roll out new features and functionality.
3rd Party Tools: Disqus Commenting System for Blogs and Websites
Do you use a blog on your website? Often, what can make a good blog better is the ability for customers and friends to engage with you and your business through comments and discussion. If you think a commenting feature would benefit your blog, we recommend using Disqus.
Disqus is a web service used by a large number of website and blogs. It offers a robust comment environment for your website or blog. It also offers spam filtering (which typically works much better than Wordpress' filtering) and analytics, among other features, as well as enabling users who create a Disqus account to follow your blog.

If you are one of our MightyMerchant customers and would like to add Disqus to your blog, please click here to view our support documentation, which will guide you through the process of setting up an account with Disqus. To learn more about Disqus, visit their site at
https://disqus.com/websites/
New Employee - Zoe
HEROweb welcomed our newest staff member, ZoŽ Livelybrooks, this November. A near-native of the Willamette Valley, she is also a recent graduate from the University of Oregon. She has worked in web design, development and maintenance for five years and is excited to make it her full-time focus at HEROweb.
Read ZoŽís full Bio on the HEROweb staff page.
New Sites
We're thrilled to welcome these new customers to HEROweb:
As we continue to move our customers to our mobile responsive framework, we are also excited to announce the mobile responsive redesigns of two of our long-time customers' websites,
http://www.paradigmmultimedia.com
and
http://www.cascadesurgicaloncology.com