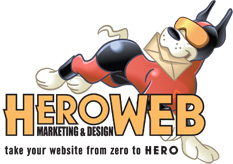 SiteBeat: January 2016
The HEROweb Marketing and Design Newsletter
HEROweb.com · MightyMerchant.com January 2016
Happy 2016 from HEROweb!
Here in Oregon's Willamette Valley we're excited to see the days getting a little longer and lighter as we head towards spring. If you are on the East Coast, we hope that you stayed warm and dry through the harsh snowy weather!
In this issue of Sitebeat we're pleased to unveil our Site Manager Announcements Panel -- a new feature designed to provide timely updates on MightyMerchant new features and announcements right in your Site Manager. Please read on to learn more.
New Feature: Site Manager Announcements Panel
Communicating important announcements to our customers has been a challenge as many people are too busy to consistently read SiteBeat or visit our website. To communicate with you more effectively we are rolling out our Site Manager Announcements Panel. This handy panel slides out of the right-hand side of your Site Manager whenever there is a new announcement to view. It can be hidden again at the touch of a button.


We will be posting new announcements regularly, so be on the look out!
Introducing the MightyMerchant API
The MightyMerchant Application Programming Interface (API) is one of our most important features, and one that you never actually see! An API is a set of instructions that enables other programmers to write code that will communicate with our MightyMerchant software and move information between your site's database and another system. It is a critical feature for customers who want to integrate with other systems, such as point-of-sale or accounting systems. If you would like to discuss the possibility of setting up an integration, please let us know!
Industry News: Microsoft Retires IE 8, 9, 10
As of January 12th, 2016 Microsoft is no longer offering support or updates for Internet Explorer (IE) versions 8, 9, or 10. They are now strongly encouraging anyone still using those browsers to upgrade to IE 11 or Microsoft Edge.

This change doesn't mean your site won't work on these older browsers - just that they are no longer supported - by Microsoft or by HEROweb. A range of modern-day website functionality no longer works on these browsers. As continuing to use unsupported versions can increase your risk for being hacked, we encourage users to follow Microsoft's advice and upgrade as soon as possible.
For more information and instructions for upgrading, please view Microsoft's full announcement.
Marketing Reminder: Referral and Google Tracking
We have an important tip for those of you who want to understand how people get to your site and purchase products: for a no-fuss method to evaluate your marketing campaigns, you want to tag the incoming links to your website.
By adding a special identifier to the end of your links (also called urls), those incoming links can be tracked by MightyMerchant and/or Google Analytics (GA). Information from link tags displays in the MightyMerchant Orders Manager and in GA reports, enabling you to see which marketing campaigns generated the most traffic and sales.
For more information about creating MightyMerchant link tags, called Referral IDs or rids, please visit our documentation on Using the Referral ID (rid) to Track Referral Sources for Your Orders.
For information on creating UTM tags for Google Analytics, please read our brief article on How to Track Your Marketing Campaigns.
Sites of the Month
While we only have two new projects going live this month, January has been one of our busiest months in quite some time and we are excited to be rolling out a plethora of exciting sites in the months ahead.
http://www.ute1stop.org -- Umpqua Training and Employment is an organization in Douglas County offering work training and job placement services. They serve both employers and job-seekers, and provide specialized training for youth and adults.
http://www.flyingclipper.com - Flying Clipper is one of the original designers of high-quality footbags and juggling balls. Jim at Flying Clipper was a long-time customer who moved to another platform. We are thrilled to have him back with a newly-designed website!