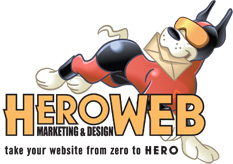 SiteBeat: January 2017
The HEROweb Marketing and Design Newsletter
HEROweb.com · MightyMerchant.com January 2017
Happy New Year from HEROweb!
You may have noticed the SiteBeat newsletter missing from your inbox in past months. We've concentrated our energies this year on producing Marketing Bites and on continuing to move our MightyMerchant platform forward. In terms of development, 2016 was a very exciting year for us at HEROweb. We created many new tools and features. To kick off 2017 we are highlighting our Vendor Feed Generation service described below, which allows our wholesale customers to distribute their data to vendors who carry their products. We have more key features in the works that we look forward to sharing with you in the coming months.
Read on for details about vendor feed generation, an important update about our physical location, and more.
In This Issue
We Have Moved our Office!
Starting today, HEROweb has a new physical location at 1976 Garden Ave. in Eugene, Oregon. We're excited to make the move to a central Eugene location that provides advantages for our staff and will improve our ability to attract top tech workers in the Eugene area.
You can find us on Google Maps, here.
Email Password Resetting
One of the most common support requests we receive is to reset forgotten email passwords. We know that it's important for you to have quick access to your emails when you need them, and to that end, we've introduced a password retrieval feature that allows you to reset your password with a recovery code in a matter of minutes.
If your email account is hosted through HEROweb, we highly encourage you to set up password retrieval for your account now, making it quick and easy for you to reset a forgotten password in the future. For a brief walk-through on how to set up password retrieval, please visit our instructions on Forgotten Passwords and Setting Up Password Retrieval.
Tech Tip: Assigning Items to Categories
On your MightyMerchant website, each item is assigned to at least one category. If you like, you can also choose to assign one item to multiple categories. Here are the basic principles of MightyMerchant item categorization:
Each item has one main category.
Beyond the main category, an item may be assigned multiple additional categories. The item will then appear in those categories on the site and in your Site Manager.
When removing an item from an additional category, you will NOT want to navigate to the category in question and delete the item. Instead, you will want to edit the item and adjust the categorization.
For detailed instructions on categorizing your items, check out our documentation on...
New Service: Vendor Feed Generation
HEROweb has an ongoing commitment to developing new tools and capabilities for our wholesale and B2B customers. As part of that effort, we're pleased to announce a new service -- Vendor Feed Generation -- which will allow you to make your product data easily available to vendors who would like to sell your products on their own websites.
For more information, please visit our page on Data Feed Pricing. The section on vendor data feeds can be found at the bottom of the page.