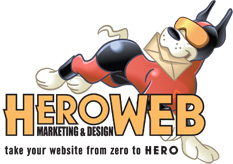 SiteBeat: July 2009
The HEROweb Marketing and Design Newsletter
HEROweb.com · MightyMerchant.com July 2009
Greetings from HEROweb/MightyMerchant,

As you can see we have modified the look of our newsletter. We hope these changes will make the newsletter easier to read and navigate. Check out the "In This Issue" bar to the left. You can click on any of the article names to jump to that article.

This month we have some exciting announcements about our expanding marketing services and new employees.

Thanks for reading SiteBeat!
HEROweb Marketing continues to deliver new services.
With the expansion of our talented marketing staff, HEROweb will continue to build its marketing services. We now offer the following services:

Comparison Shopping Feed Management. Comparison Shopping Engines encompass a growing category of websites that allows shoppers to easily compare prices for a particular product and click through to the vendor's website. HEROweb is offering feed management services to build and maintain optimized feeds for comparison shopping engines, including Google Product Search, NexTag, Shopping.com, and others.

Pay-Per-Click. Pay-Per-Click (PPC) advertising allows you to gain prominent placement within the "sponsored link" sections of major search engines. You only pay if a user clicks on your listing. PPC is an effective way to drive highly targeted traffic to increase revenue and attract new customers. HEROweb's experienced staff can help you build and manage effective ad campaigns while closely monitoring ad budget and attaining the goals that you set.

Search Engine Optimization. Organic search engine optimization (SEO) is one of the pillars of any successful Internet marketing strategy. We have always offered great tools for performing your own optimization and are now going full bore in offering fully-managed SEO services. SEO includes on-site optimization, copywriting, link-building, and local search exposure. Please inquire about our full range of services.

Social Media Set Up. Social Media is one of the big buzz terms these days on the Web. HEROweb can help you assess whether the investment in Social Media makes sense for your business. We can also assist you with publishing content on the major social media venues, such as Facebook and Twitter, and to develop content for your business blog and your website.

Contact us to learn more about our marketing services.
Save time using T-Hub with Quickbooks to manage orders.
With T-Hub your order information will be transferred from your web site to Quickbooks automatically! Sign up with HEROweb for T-Hub to save time on managing your orders. T-Hub is an accurate and powerful tool. HEROweb will add this feature to your website for a $200 set up fee and an additional $20 monthly fee. Sign up for this feature to streamline your order management! Contact us to learn more or to sign up for this feature.
Boost your reputation with reviews.
Word of mouth is one of the best (and certainly cheapest) ways of advertising. Yelp.com has taken this concept online. You can search Yelp for local businesses, restaurants, shops, etc. and see reviews by real people. Add your own business to Yelp and see if you can generate some reviews. Yelp is especially useful for promoting your business locally, but the reviews can also reach your national audience. Yelp reviews are likely to appear when potential customers type your business into their search engine.
Test out Yelp by reviewing HEROweb here.
We appreciate your reviews about our services!
Also, when using Google Maps have you ever noticed the Reviews feature? When people search for your business location they will also see these reviews.
Review HEROweb/MightyMerchant here!
We would be happy to return the favor. If you have set up your own account on a review site and would like us to give you a review, please let us know!

Getting Your Feet Wet With Social Media- Watch the video now.
On June 23, Michael Stearns, co-owner of HEROweb, gave a presentation on getting started with Social Media. If you missed out on this valuable information there is no need to fear! We have posted the video online.
Click here to view the video
and learn valuable tips on increasing your online presence with Social Media.

HEROweb gives a warm welcome to Dave Reed.
We would like to welcome Dave Reed, our new Internet Marketing Specialist, to the HEROweb/MightyMerchant team.
He will be assisting customers with PPC, Product Feed Management, and other marketing services. Dave has been managing web marketing campaigns for the past 3 years.
He enjoys biking and reading in his spare time. To read Dave's complete biography
visit the HEROweb Web Development Team page.

Joining the family business- meet our summer interns.
We would also like to welcome our summer interns Teija and Quinn Stearns (children of co-owners Michael and Staci.) They are happy to be part of the family business.
Teija has a number of responsibilities, including writing this newsletter as well as updating websites. She will be a senior at Pleasant Hill High School. She plans to go to college, possibly at the University of Oregon. She will be editor-in-chief of her high school newspaper and yearbook. This is her third summer working at HEROweb. Teija enjoys reading, running cross country, playing soccer and tennis, surfing the web, and playing piano.
Quinn Stearns will be a sophomore at Pleasant Hill High School. He is working on developing marketing and instructional videos for HEROweb and providing technical support. This is his first summer working for HEROweb. He enjoys biking to work, playing video games, surfing the web, reading, running cross country, playing soccer, and playing tennis.
Follow us on Twitter, Facebook, and LinkedIn
Several members of our staff are actively engaged in Social Media. Please take the opportunity to follow us on our various Social Networking pages by
visiting our social media page.
Welcoming New HEROweb/MightyMerchant Clients
And finally, we would like to welcome our new customers whose sites have gone online in the past month.

SFSkinCare.com
- Brand name skin care products in San Francisco, CA. (redesign)

OregonSpeechAndHearing.org
- Professional organization for Oregon speech-language pathologists and audiologists.

Knife-n-Gun.com
- Variety of airsoft guns and cutting collectibles.

CollectorVintageWatches.com
- Collectible men and women's vintage watches.
Muzikutopia.com
- Hand-selected collectible guitars, music gear and a variety of musical instruments at discounted prices.
Nature-Discovery.com
- Publisher of scientifically accurate wildlife identification charts, posters and prints. (redesign)