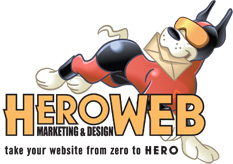 SiteBeat: July 2012
The HEROweb Marketing and Design Newsletter
HEROweb.com ∑ MightyMerchant.com SiteBeat - July 2012
Many of our customers are wondering about the move Google is making from the free Google Product Search to the paid Google Shopping model. We have gathered information to share with you that explains specific steps for you to take, whether you already have an Adwords account or not. We hope that this information is helpful to you! Read on!
Migrating to Google's New Product Search
The changes that Google announced to their Shopping service continues to reverberate. Marketers are wondering what they need to do to get ready for the change, and just what it all means. In a nutshell, Google is moving to a completely commercial model, meaning it will no longer be free to advertise your products on Google Shopping. Instead, all product ads will be what Google calls Product Listing Ads. We have provided some additional information and specific steps to our customers who want to know more.
Please read our article about
Changes to Google Product Search
for specific steps on how to proceed.
HEROweb Customer Referral Program
We are so appreciative of the referrals we have received from HEROweb customers throughout the years. Building a strong community and having close relationships with our users is one of our main goals.
Some customers have benefited from our referral program, which gives you credit on your monthly fees for referring new customers to HEROweb. We always want to show our appreciation for your referrals and want to make sure you know how the referral program works.
Here's what to do:
1. Tell a friend, family member, colleague or neighbor who needs a website or an improved website about HEROweb.
2. Fill out the
referral form on our site
. The form allows us to track the referral so that you get the proper credit.
3. We will let you know when the customer signs up.
4. Once the site goes live and remains active for three months, we will credit you on your monthly fees equal to 3 months of the new customers' monthly costs.
View the HEROweb Customer Referral Form
Featured This Month: AddThis
We are using the social bookmarking widget from
Add This
, which is a pretty nifty way of increasing traffic to your site
by helping visitors share to Facebook, Twitter and more than 300 other social sites.
Add This is a "widget" (or small application in the form of a chunk of code that can be added to a site) that is currently on 14 million web pages and reaches 1.3 billion people a month, according to the company that developed it. We like Add This because it has a unique feature that can turbo-boost sharing activity on your site. Add This tracks each userís sharing behavior on each computer, and finds out which social networks an individual uses the most. It then customizes itself to each personís preferences. This increases the likelihood that each person viewing your site will share your content.
For example, one person may do most of their sharing via Facebook, Reddit and Email. Another may share via Google +, Twitter, and Pinterest. So a generic sharing bar might work well for one person, but not the other. Add This shows each person the right buttons, and you get more shares.
You can see the widget in action by going to the Add This website at
www.addthis.com
. If you look in the right-hand corner of the site you can see a white cross in the middle of a red square next to the word Share. Hover over that and links pop up. Common links are to Facebook, email, and Twitter, but if the particular user who is hovering over the widget spends a lot of their time on StumbleUpon, for instance, that is what will pop up. Click on the "share" word and more than 300 options for sharing on social media sites is available to the user.
It hovers on the bottom right of the website no matter what page is being viewed, so the user always has access to easily share what they are seeing. This widget is a clean, attractive, fun, and functional way to turn your site visitors into evangelists. HEROweb can set up Add This on your website for a $75 fee.
Welcoming New HEROweb Customers & Redesigns
Check out the latest sites to go live!
New Sites

LTECTennis.com
- This site is a second website for an existing long-term HEROweb customer who decided to work with us to expand and build his business. L-TEC is a brand name that stands for "Low-tension, Energy and Control," and it is a patented, customizable system for stringing tennis rackets that results in a higher level of play.
OliveGrand.com
†- At Olive Grand, you'll find ingredients for delicious and memorable meals, from flavored olive oils and vinegars, to gourmet pastas, seasonings, salts, gifts and more.
Redesigned Sites
Here at HEROweb, we build long-lasting relationships with our customers -- and our relationship with clients of ours who embark upon a site redesign is an example of the growth cycle we like to encourage. It is important to evaluate your site as a whole every year or two. There are many enhancements you can make by adding great content and working with your current features. But it could be time for you to do a site makeover.
Businesses are constantly growing and evolving, and sometimes this involves a new look and integrating new technology. Some sites function well for many years with minimal changes, but if you are in a competitive niche and your business has grown, there could be a range of updates - both visual and functional - that can help you take your online business to the next level. And if you've got a successful online hub to draw in and engage your customers, you need to make sure it's fresh, up-to-date and maximizing your message. So, this involves giving your site a virtual facelift every once in awhile. (And golly, do we think our redesigned websites look great!)
USComplianceSystems.com
†- US Compliance provides employee safety information and programs to help your company comply with Workplace, Insurance, OSHA and Third Party requirements. Their quick and easy-to-use Wizard helps you customize the safety program that is right for your company and industry.
EarthAquariusNews.com
†- Mark Lerner is a professional astrologer who provides birthcharts, astrological consultations, and astrological calendars. His interpretations of celestial events provide a cosmic explanation of real-world day-to-day life.