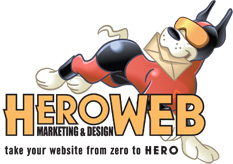 SiteBeat: July 2015
The HEROweb Marketing and Design Newsletter
HEROweb.com · MightyMerchant.com July 2015
Greetings from HEROweb.
Internet security has been on the minds of many people lately, and at HEROweb, we make it a top priority to maintain a secure ecommerce environment for our customers and to keep you informed of best security practices. There is often a trade-off with security: the tighter the security you employ, the more work that is involved your part or more hoops your customers must jump through. We discuss one such situation below, in our section titled "Manage Your AVS Settings". Read on for our security recommendations and other useful information, including a pricing update and a discount code for tickets to Practical Ecommerce's Ignite 2015 conference, focusing on ecommerce and featuring a presentation by HEROweb's Michael Stearns.
Manage Your AVS Settings
In recent years, credit card fraud has increased, and many e-commerce business owners have responded by using stricter security settings in their Payment Gateways to flag or decline payments that might be fraudulent. The trade-off, however, is that strict settings can sometimes result in good orders being rejected.
Some customers have their AVS (Address Verification System) set to decline all orders with an AVS mismatch without understanding how the AVS system works. We have put together an article to help you understand how to best utilize the AVS system and decide which settings make the most sense for your business.
To learn more about AVS and other security settings, please read through our
new article on Credit Card Gateway Security Settings. For more information on detecting and dealing with fraudulent orders, please take a look at our article on Preventing Order Fraud.
New Feature: Multiples of a Single Item Aggregated in the Cart
As a new feature in MightyMerchant v5, if a customer adds a single item to their cart multiple times, the items are combined into one line item in their shopping cart. This is a change from previous versions, where each time the item was added, a new line would appear.
Practical Ecommerce Conference Coupon Offer

HEROweb's own Michael Stearns will be one of a range of presenters speaking at this year's Ignite 2015 conference, held by Practical Ecommerce on September 16 and 17 in Dallas, Texas. This two-day event will be packed with information about ecommerce and doing business online. Michael will be presenting on A/B Testing.
HEROweb customers can take advantage of our discount code, HEROIGNITE, to receive 50% off all tickets, including both individual and group tickets.
To learn more about the conference and to register, please visit the Ignite 2015 website.
If you are planning on attending the conference, please let us know -- Michael would love to connect with you!
Authorize.net Configuration Changes
The payment gateway Authorize.Net recently sent out a notice that they would be making a networking change. We are making the necessary server implementation to address this change, and no action is needed from our customers.

If you receive a notice like this one that you think might require our attention, please feel free to forward it to us so we can evaluate what needs to be done.
.ORG Domain Pricing Increase 8/1/15
We are updating our pricing in reflection of the public interest registry (PIR) pricing update of the .ORG domain. With our new pricing, annual .ORG renewals cost $27.00, 3-year renewals cost $60.00 and 6-year renewals cost $109.00. The .ORG transfer rate, which includes a one-year renewal, is increasing from $38.00 to $40.00.

The pricing for .COM renewals and transfers remains the same.
New and Featured Sites - July 2015
We are pleased to announce the launch of two mobile responsive redesigns!
http://www.toolcountryusa.com/ - Tool Country USA offers a wide selection of tile tools and related equipment to retail customers nationwide. Be sure to check back often to take advantage of their frequent coupon discounts!
http://support.mightymerchant.com/ - Our very own MightyMerchant Support site has a new look and is now more easily accessible from your mobile devices! Stay tuned for future developments to our family of MightyMerchant and HEROweb sites in the coming months...