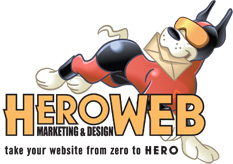 SiteBeat: June 2011
The HEROweb Marketing and Design Newsletter
HEROweb.com · MightyMerchant.com June 2011
Greetings from HEROweb headquarters. I think this is supposed to be summertime, but the weather in the beautiful Northwest has been anything but beautiful. No worries, though. With less reason to enjoy the great outdoors, we have been spending our time in front of our computers, developing all kinds of cool stuff.
New MightyMerchant Feature: Repeat Orders Module
In conjunction with a range of new features we will be releasing in the months ahead, we would like to announce our Repeat Orders Module.
Repeat Ordering allows your customers to set up recurring purchase schedules for specific products and MightyMerchant will handle the pricing, ordering processing, and notifications at user-designated intervals.
You can get a glimpse of this feature on
www.bestbullysticks.com
Contact us to learn how you can integrate the Repeat Orders module with your site.
"Integrating MightyMerchant with your Social Media Strategy" Webinar
In our July webinar we will explore the various ways to use MightyMerchant in your quest for social media success.
We hope you will join us Thursday, July 14 at 10 am PST for our free webinar, "Integrating MightyMerchant with your Social Media Strategy".
Sign up to join the discussion!
$100 of FREE Google Advertising
Advertising on Google can yield profitable results for online business owners. The Internet Marketing Specialists at HEROweb are here to help you with every step of your marketing journey.
To help you get started with your online marketing campaign, we are going to give
$100 worth of FREE Google advertising
to the first 5 customers to sign up for our services!
Give us a call here at 541-746-6418 to learn more and sign up!
Follow us on Facebook
Have you visited our Facebook page? Our fans receive tips on topics like Social Media and Online Marketing as well as updates from our Ecommerce Blog, exclusive HEROweb offers, and of course the occasional 'behind-the-scenes' photo of your favorite "Heroes".
Don't miss out -
Like us on Facebook
today!
Farewells and Fresh Faces - A HEROweb Team Update
Some of you may have heard, our tech whiz and good friend, Jesse Wakeley has moved on to the next chapter of his life, and is no longer working for HEROweb. Jesse was an outstanding HERO and will certainly be missed, but you are still in good hands!
These days, if you call our office in search of some good old fashioned tech support, you will likely speak with Barrett Avery or Johnathan Curry. Barrett (who has been with us since October) and Johnathan (Our newest HERO, hired last month) are both Web Programmers with impressive resumes and years of experience.
You can learn more about Johnathan, Barrett, and the entire HEROweb team by visiting our
"Meet the Team" page
on our site, or
find us on Facebook
!
The Latest
See what we have been up to by exploring our latest sites to go live!
HSM-PaperShredders.com
- Your online source for HSM Paper Shredders, Cardboard Shredders and more!
NorthwestMemories.com
- Elegant laser cut scrapbooking designs.
GorillaIndustrialSupplies.com
- From Welding Supplies to Industrial Strength Abrasives, Electrical Tools to Janitorial Equipment, this site offers all things "Industrial".
LoyalCitizenClothing.com/
- Shirts and accessories that exemplify New England pride.
LoveYourPets.com
- Pet Tags, Dog ID Tags or Personal ID Tags to protect your kids, pets, luggage and more! We have worked with Love Your Pets for quite some time, but have just unleashed a new Pet Tag Selector on the site. Check it out!
IshaLerner.com
- Astrology, Flower Essences, Sacred Sciences, Tarot Cards and more. Developer, Julie Schulte, was instrumental in this extensive site makeover.
NaomiLevitPhotos.com
- Eugene Oregon based wedding & portrait photographer.