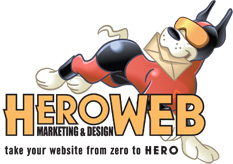 SiteBeat: June 2012
The HEROweb Marketing and Design Newsletter
HEROweb.com · MightyMerchant.com SiteBeat - June 2012
Is there any part of ecommerce that Google doesn't touch somehow? It certainly seems that changes to Google affect everything else, and announcements by Google this month are no exception.
One big change is a switch to a paid model for product feeds called Google Shopping. The other big change was that
Google Place pages have been completely rolled into Google+
, which we wrote about in our Marketing Bite on June 7. Another huge change in the prior month was Google's Panda Update. A few of our customers were greatly impacted by this update to Google's search algorithm, while most of you have not experienced any change. We hope that you will read this important article about the changes to Google Shopping, and note that HEROweb has made some changes to our shopping feed services as a result.
We also have a video tutorial about using the Sale Manager to create a sale for items in one category. Read on!
Big Changes to Google Product Search
On May 31, 2012, Google announced a major change to their Product Feed and Shopping services. This is a big change and we have had several customers get in touch with us after reading our
Google Product Feed Update
in our Marketing Bite on June 14.
We have some additional information for our customers who will be affected. This change is something that requires some action on your part if you want to continue listing your products through shopping feeds, and it is also information you will need to know should you decide to begin listing your products through shopping feeds if you're not already.
Please read our article about the
changes to Google Product Feed and Shopping services
.
Tech Tip: Set Items in a Category on Sale
Our Sale and Coupon Manager is a powerful tool that customers really love. But it has so many features that it can be difficult to know how everything works, so we have created a brief video tutorial explaining how to put a category of items on sale.
Watch the video tutorial about creating a sale for items in one category
.
HEROweb Email Support Policy
We often have customers ask us about email-related questions. Typically the issues are related to setting up email accounts on a range of devices, or wondering why a message is not being delivered.
We have written a guide called
"Troubleshooting Email Delivery Issues"
that can help when you experience these sorts of issues.
You might also be wondering just what kind of support you can expect to receive from HEROweb if you are experiencing email issues. HEROweb's
Email Account Support Guidelines
defines the scope of our email support. We want to make sure that you're getting help when you need it and to clarify the extent of the support that we can provide you so that you can direct your requests to the right place.
Read our
Guide to Email Troubleshooting
Read our
Email Account Support Guidelines
Customer Profile: Century Lighting
Century Lighting has been lighting the way for Willamette Valley and Oregon coast businesses since 1984. Century Lighting Oregon is a full-service lighting company specializing in the sale, installation and maintenance of commercial and industrial lighting systems.
Read the full profile
on this "bright" local business.
Recent HEROweb Site Launches
Check out the latest sites to go live!
In last month's SiteBeat, we made a big mistake! 
CenturyLightingOregon.com
is one of our new sites, but we inadvertently linked to the wrong site URL in our newsletter. We wanted to reference the correct site as well as encourage you to check out this "shining" example of a local business! Century Lighting serves the lighting needs of 800 to 1200 other local businesses year-round, and they are also the featured customer in our
Customer Spotlight section this month
.
LanternCourt.com
- Lantern Court proudly offers made-in-the-USA party supplies and paper goods for the Muslim holidays of Ramadan and Eid.
RoyaltyCore.com
- Royalty Core is one of our current customers who chose to update and redesign their site. Shoppers can select from unique grilles, bumper grilles, tailgate badges, and other accessories designed to fit their truck.
AmscoOnline.com
- Amsco is also one of our current customers who chose a site redesign. Amsco is a fashion jewelry outlet where wholesalers and retailers can find fashion jewelry for the jewelry trade. They purchase in volume and also manufacture their own products, so that you can get the latest fashion jewelry at a fraction of the cost.
CascadePacificStewardship.org
-  This website is the information portal for the Cascade Pacific Forest Stewardship Initiative. The Initiative is the effort of a collection of individuals and stewardship organizations that are working with the Siuslaw National Forest to promote forest restoration that meets the needs of local communities. Visit the website to learn more about the Cascade Forest Stewardship Initiative.
AdInTennis.com
- It's not always easy to find well-fitting and flattering tennis tops and skirts. Many women just don't fit into the standard model's frame, so Ad In Apparel and Ad In Tennis was created to help all women look and feel their best in active clothes, both on and off the court.