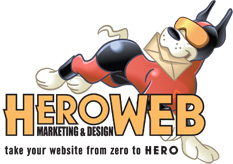 SiteBeat: June 2015
The HEROweb Marketing and Design Newsletter
HEROweb.com · MightyMerchant.com June 2015
Greetings. Summer has arrived and business is sizzling here at HEROweb.
We sometimes hear from our customers that they have not had time to read our newsletter. We are doing our best to keep the newsletter short and packed with timely and relevant information. Our goal with the newsletter is to make you aware of new features and functionality in MightyMerchant. We hope you find some useful tidbits that will help you improve your business!
Accessing Your Email on Mobile Devices
You can access your HEROweb-hosted email accounts from multiple devices. For instructions on how to set up your mobile devices to receive email, please visit our support page, "Email Account - Initial Configuration," and click the Mobile link to find specific instructions for your device.
In a pinch, you can also access your email via your web browser on your mobile device by typing in the URL --yourdomain--/mobilemail
For example, if your domain was www.heroweb.com, you would type in www.heroweb.com/mobilemail
If you have any questions about these instructions, please feel free to contact us via our support form.
Documentation Update: Referral IDs
A referral ID (known as an "rid") is a string of text that you can append on the end of any incoming link pointed to your MightyMerchant website, such as the links you might put in an email marketing blast or pay-per-click ad. When someone accesses your site using a link with an rid and completes an order, the rid shows in the Site Manager next to that person's order. This can help you determine how your customers are arriving at your site, and where you should focus your marketing efforts in the future!
To learn more about rids and how to use them, please visit our documentation on Using the Referral ID (rid) to Track Referral Sources for Your Orders.
Meta Descriptions in MightyMerchant v5
Why Use Meta Descriptions? A Meta description typically shows in the source code of your web pages and is visible to the search engines but not to people visiting your site. Google sometimes displays the meta descriptions in the Google search result pages.
MightyMerchant will use the first part of your product and category text as the default meta descriptions for your pages. If you don't like the text Google has picked to show with your listing, you can add your own meta description and Google may use it. To learn more about editing your meta descriptions, please take a look at Mind Your Meta Descriptions, our recent Marketing Bite.

Why Should You Show the Meta Description Text on Your Web Pages? Meta descriptions have no weight in search engine ranking algorithms. Any effort you put into writing meta descriptions will have limited value unless Google uses the meta description in the listings it returns, which only happens on a limited basis.
MightyMerchant v5 has a feature that shows the meta description text directly on your pages. By showing the meta description text on your pages, the words you use in your meta descriptions will be indexed by Google and other search engines and may give your page a little more weight for those phrases. If you don't want to see the meta description text on your pages, we can hide them so they don't show to site visitors.
Setting Up Ecommerce Analytics
If you have an ecommerce site and use Google Analytics, we strongly recommend activating Google Analytics Ecommerce Tracking. Activation is a quick process and gives you access to a wealth of useful data regarding transactions on your site, including product performance and top revenue sources.
To learn how to activate Ecommerce Tracking for your site, please visit our instructions on Google Analytics Ecommerce.
New and Featured Sites - June 2015
We are pleased to announce the launch of two mobile responsive redesigns!
http://www.pacificstonescape.com/ - Whether you are a homeowner, landscaper, mason, builder, or architect, Pacific Stonescape can meet your stone needs. Based in Corvallis, Oregon, and shipping nationwide and overseas, Pacific Stonescape offers a wide range of stone and stone products, from flagstone and river stone to Japanese stone lanterns, stone columns and treads.
http://www.shopk12.com/ - Shop K12 offers a wealth of equipment and educational tools for K-12 teachers of all subjects. Their catalog includes educational software, DVDs, document cameras, games, maps, and much more. Shop K12 accepts both individual orders and school purchase orders.