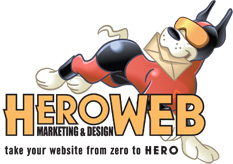 SiteBeat: March 2012
The HEROweb Marketing and Design Newsletter
HEROweb.com · MightyMerchant.com
Spring is springing and so are new ways to grow your business! Facebook has announced a new look, and we've written an article about how to make the most of it. We have also begun rolling out our mobile version of MightyMerchant - which is optimized for mobile devices.
In the weeks ahead we are offering two opportunities for you to learn more about internet marketing through our Marketing bites - Monthly Talks and an online webinar about Pay-Per-Click advertising.
In This Issue
Facebook's New Timeline
At the end of March, Facebook is implementing a new look for their personal and business pages they're calling "Timeline." The look places more emphasis on images and also allows your friends to "go back in time" more easily, and view older posts. It's an affect similar to a visual scrapbook.
If you haven't opted-in to Timeline before the end of the month, Facebook will automatically make the change for you. Learn about the changes now, so that you can take advantage of this fresh new way to represent their personality and brand.
Read
HEROweb's article about Facebook's Timeline
to see how you can make the most of the new look before Facebook makes the switch at the end of the month.
HEROweb Marketing Bites - Monthly Talks
Our next Monthly Talk topic is:
SEARCH ENGINE MARKETING TO BOOST YOUR WEBSITE TRAFFIC
Tuesday, March 20, 6-7:30 pm
Singer Room, Eugene Public Library
Free *
Registration is recommended but not required
Whether you are struggling to to generate online traffic to your website, or simply looking to maximize your search engine exposure -- this presentation is for YOU!
We'll cover the following topics:
Basic on-site optimization
Link-building tips
Writing content for search engines
A survey of SEO factors
Measuring your results
Attendees that also pre-register online will be eligible to win a $250 coupon for HEROweb services! For current customers this could offset costs for a new feature upgrade or re-design.* For non-customers, this could offset the cost of developing a new site! Register, join us and WIN!
"Doing search engine marketing well takes an interesting mix of creativity, analytical skills, and technical knowledge. We are going to focus on some very simple ideas and present some immediate steps that business owners can take to gain measurable results with their search engine marketing." –
Michael Stearns
For more information and to register -
Register for Monthly Talk
!  
Webinar on April 17: PPC Campaign Management Primer
On April 17, Michael Stearns will host an online webinar on the basics of setting up and managing a PPC campaign using Google Adwords. Michael will lead you through some of the key features of Google Adwords as well as some of the important decisions you need to make when running a PPC campaign.
If you haven't participated in a webinar before, it is easy! You just need to log into the webinar website at the time of the webinar and have some way to hear sound through your computer, or you can even call a phone number to hear the audio.
Register Online
to reserve your spot for this free and informative discussion.
MightyMerchant Now Integrated with Pay Junction
We are happy to announce that HEROweb now supports a new payment processor called
Pay Junction
.
One of the benefits of Pay Junction, besides their excellent pricing, is that this service allows you to process credit cards through your website, a virtual terminal, or any (yes, any) phone, whether we're talking about your desktop office phone or your newest iPhone or Android smartphone.
HEROweb is always looking for ways to improve what we can offer to customers, and to make managing your business easier. If Pay Junction is something you think would work for you, give us a call and we'll discuss it with you, as well as the differences between the other payment processing options that we offer.
Welcoming New HEROweb Customers
Check out the latest sites to go live!
GCAP.org
- The Government Contract Assistance Program (GCAP) is part of a nationwide network working to help Oregon's small businesses succeed in obtaining government contracts.