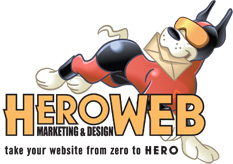 SiteBeat: March 2015
The HEROweb Marketing and Design Newsletter
HEROweb.com · MightyMerchant.com March 2015
Happy spring to all of our HEROweb customers! The unusual weather patterns have presented opportunities for some customers and challenges for others. One customer who sells running shoes and sports apparel in the Northwest mentioned that the unseasonably warm weather out here in Oregon has led to strong sales. Let's enjoy it while we can; maybe the summer will bring torrid weather, or for all we know, we could see some snow in June!
This month we present several new features and functionalities. None are what we consider major feature releases, but these continual small enhancements add up to a improved website experience for you and your customers.
In This Issue
Mini-Survey: Self Managed Email Acccounts
We are considering offering self-administration capability for our email system. This would allow you to add and delete user accounts and create aliases. Up until now, HEROweb has provided these services at no charge as we have found it more efficient to help customers with the necessary changes than explain how to administer the system. We would like to know -- given the option, would you prefer to administer your company's email yourself? Let us know what you think by completing our quick email self-management survey.
Version 5 Highlight: Image Naming Feature
HEROweb has rolled out a new automated image naming feature in MightyMerchant v5. This feature prevents the overwriting of existing images on your site by adding a prefix when you upload an image to the Site Manager. For example, when you upload an image named frontporch.jpg, the image will be named something like p.244.3-frontporch.jpg when it is saved to MightyMerchant.
MightyMerchant How-To: Using Category Search Words to Improve Site Search
We have continued to refine the internal search tool in MightyMerchant. By "internal search" we are referring to the search tool on your own site as opposed to the Google and Bing search engines.
The results of your internal search are dependent on the words and phrases you include in your product and category names and descriptions. You can enhance the accuracy of the search for specific categories on your site by using the Category Search Words field to add additional keywords.
To learn more, you can follow our instructions for Adding Category Search Words.
New Functionality: Expanded Gift Certificate Options
In MightyMerchant v5, we have introduced a variety of new layout options for gift certificates! Depending on which layout you choose, you can feature a product image, your logo, or a bow design. Some layouts also allow you or the buyer of the certificate to select color accents.

If your website is currently on MightyMerchant v5, and you would like to customize your gift certificates, please go to the Choosing Gift Certificates on Responsive Layouts instructions on our support site.
New and Featured Sites - March 2015
We are excited to announce the launch of two new mobile-responsive sites, and one redesign over the past month.
http://www.structurecompliance.com -- Serving New York City and surrounding areas, Structure Compliance Group provides safety audits, plans, personnel, and safety training for the construction industry.
http://www.blankenshipcorp.com -- Located in Springfield, OR, Blankenship Corp. is a commercial and residential building contractor. Mike Blankenship and his team offer high quality craftsmanship on a wide range of projects, from residential custom homes, to multi-family units, storefronts, and remodels.
http://www.swahiliwholesale.com -- Swahili African Modern, a member of the Fair Trade Federation, links African artisans with a worldwide audience. Their products include accessories, decor, instruments, toys, and dining utensils. We worked with the team at Swahili African Modern to redesign their wholesale site, giving it a fresh new look, easier wholesale ordering, and mobile compatibility.