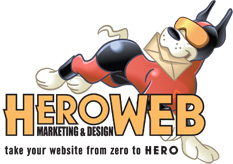 SiteBeat: March 2016
The HEROweb Marketing and Design Newsletter
HEROweb.com · MightyMerchant.com March 2016
Greetings from HEROweb!
Our business at HEROweb is all about communication -- not only person-to-person, but software-to-software. Placing an order, signing up for a newsletter, or calculating shipping frequently require our MightyMerchant software to communicate with software managed by other companies, such as a payment gateways, shipping services, or email marketing providers. What makes this communication possible is information provided by you -- the site owner -- in the form of an API Key. Read on to learn more about APIs and API Keys in our Knowledge Base feature, "What is an API, and Why is it Important to You."
New Service: Self-Managed Email
We are now offering a self-managed email option for customers who would like full access to email account and alias setup and adjustments. If you are frequently making changes to your business's email accounts, this may be a time-saving solution for you. With this option, email troubleshooting support is billed at our regular hourly rate.
To learn more about this option, or to request self-managed email for your business, please contact us via our Online Support Form.
Feature: Timed Content
Timed content is one of our little-known features that can have a big impact on how you manage your site. In essence, our timed content feature allows you to fill out start and end dates to control when an item or sale displays on your site. 

Here are a few examples of how you could use timed content to your advantage on your site:
Duplicate an item and put it on a rock-bottom sale by setting a sale price, make it only be available for a limited time.
Write several blog posts and have them published on a schedule.
Rotate home page content by setting start and end times for different slides or announcements.
Got another idea? Contact us using our Online Support Form, and we can discuss how to implement your idea.
Domain Pricing Increase 3/31/16
HEROweb offers domain management so you don't have to worry about losing your domain, sort through bogus domain renewal offers, or figure out how to use and configure yet another web technology.

We are updating our prices for domain registration and renewal because our costs for domain registration and renewal have gone up. Our new pricing for domain registration and renewal is as follows:
Annual Renewals
.COM - $27
.NET and .ORG - $30
3-year Renewals
.COM - $60
.NET and .ORG -$65
6-year Renewals
.COM - $105
.NET and .ORG -$120
Transfers
.COM - $40, including a one-year renewal.
.NET and .ORG - $43, including a one-year renewal.
Knowledge Base: What is an API and Why is it Important to You
There is a good chance, if you are a website owner, that you have heard the term API, which stands for Application Program Interface.

Although you don't need to be a programmer to have a successful website, it is helpful if you have a sense of why APIs are important and how they are involved with your website.

A great way to think of an API is a set of instructions that allow one piece of computer software to talk to another. MightyMerchant is the software that runs your website. There are all kinds of other software that MightyMerchant needs to communication with. Some examples are:
Email marketing programs, like ConstantContact
Authorize.net and other credit card Gateways
Shipping providers like FedEx

Each one of these systems has an API which MightyMerchant uses for communication. Your job, as the site owner is to create a special API key that allows our system to securely communicate with the other providers' system and add it to your website. If we have an integration with another provider, once you have done the initial setup of the key everything else works seamlessly.

MightyMerchant has its own API that other programmers can use to connect to your website and pull data, such as order information. Our API is an important advanced feature for customers who want to extend the power of their website. We can typically work with third party programmers, of your choosing, to allow them to access your website's data and build custom functionality for you involving other systems, such as accounting and inventory management.
Tech Tip: Accounts vs. Aliases
Understanding the difference between an email account and an email alias is key for creating streamlined email management practices for your business.
On the most basic level, email accounts are places where your email can be stored until it is retrieved by your email client (such as OSX Mail or Outlook) or webmail. Email aliases, on the other hand, do not store email -- they forward it immediately to one or more accounts.
When possible, we often recommend setting up aliases instead of accounts. Keeping accounts to a minimum generally means you will spend less time configuring, checking, and managing your email. Please read our article Email Basics: Accounts versus Aliases for a full description of the differences between these options.
Sites of the Month
It's been a busy month at HEROweb, with six new projects going live. We invite you to learn more about these customers below and check out their new sites!

http://transitiondynamics.net --  Transition Dynamics offers executive coaching and leadership development. They have been our customer for many years, and we're excited to have upgraded them to our mobile responsive framework!
https://evergreennutrition.com -- Evergreen Nutrition offers a wide selection of vitamins, nutrition supplements, and alternative health remedies. They also run a blog on various health topics.
http://schreinersgardens.com -- Schreiner's Iris Gardens is based in Salem, Oregon, and ships iris across the U.S. and internationally. In addition to a large range of iris, Schreiner's carries books, gifts, and fertilizer.
http://www.mixonconsulting.com -- Tim Mixon of Mixon Consulting works with businesses to evaluate their information system's health, determine which software is best for their needs, and craft custom software solutions. 
http://kulaecanada.ca -- Kulae Canada is a vendor of eco-friendly yoga mats and other yoga and pilates accessories. They serve both retail and wholesale customers in Canada.
http://thepondoutlet.com -- The Pond Outlet is your one-stop shop for all of your pond, lake, and water feature needs. They sell Aquascape pond supplies, and products to help you build, light, maintain, and decorate the pond of your dreams.