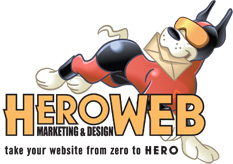 SiteBeat: May 2011
The HEROweb Marketing and Design Newsletter
HEROweb.com · MightyMerchant.com
Greetings,
We have had a hiatus of a few months since our last Sitebeat newsletter. We are glad to be back in touch. There are some important announcements below. So please read on to be informed about what is new at HEROweb.
Of primary importance is our migration to version 4 of MightyMerchant. We have already moved quite a few customers to version 4. We will be doing a webinar in just a couple of weeks to go over many of the new features.
Version 4 also paves the way to many exciting enhancements we will be rolling out over the months ahead.
May 21 Scheduled Downtime
As most of you know, our servers are housed in a datacenter run by Rackspace. Over the years, Rackspace has done an excellent job of providing rock-solid connectivity, service, and support.
Rackspace will be making a data center upgrade in the early morning of May 21st which will require physically moving each server.
During the window of 1am to 6am you can anticipate that your site will be down for up to two hours. This downtime should have no impact on your email accounts.
I apologize for the scheduled downtime, but this is a move that Rackspace deems is important for the continued expansion of their data center.
HEROweb Hourly Rate Adjustment to $65/hr.
Over the last 10 years, throughout the evolution of our company, we have kept our hourly design rate steady at $55/hr. We have decided the time has come to increase the rate to $65/hr effective with the June 1st bill. Our programming rate will remain the same at $100/hour.
We continue to increase our staff and services and strive to continually provide excellent support.
"What's New in MightyMerchant v4" Webinar
Next month we will be exploring the new MightyMerchant features. Join Michael Stearns on Thursday, June 2 , 2011 at 10:00am PST to learn more about the new and exciting features and what they can mean for your online business!
Register now!
Groupon - Now's Your Chance!
www.Groupon.com
is a deal-of-the-day website that offers promotional coupons localized to major geographic markets all over the world. Running a Groupon is a big opportunity for exposure and can be a great move for your business.
We are excited to announce that we now have a contact at Groupon who works with small businesses. Give us a call if you are interested in possibly participating in a Groupon offer, and would like more information.
Promotions are a great way to bring an influx of traffic to your site. If your business is planning a major promotion, such as a radio or TV segment, a Groupon offer, or some other campaign that may illicit a flood of traffic, we ask that you let us know so that we can be prepared in the event of any issues related to the high traffic levels.
Our Latest Work
Check out the latest sites to go live!
MyKulae.com
- Providing the most stylish + eco-friendly yoga gear on the planet
SeeSpotLiveLonger.com
- Great nutrition can give your dog a longer life
WhiteWaterDesigns.com
- Boat rescue equipment, and supplies for rafts, canoes, and kayaks
CrosbyAndTaylor.com
- Beautiful American-made products for everyday use