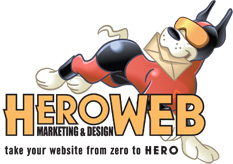 SiteBeat: May 2012
The HEROweb Marketing and Design Newsletter
HEROweb.com · MightyMerchant.com May 2012
The past month has been a whirlwind of activity and we have many new developments to report! Read on to learn more about our new office location, new employees, and several new sites that we've launched.
New Employees
We're excited to introduce you to the two newest members of our team. This past month we said goodbye to Julie, Barrett and Dave, and said a hearty HERO hello to Adam Bushey and Jay Thompson.
Adam will be a front-end web developer. He has a background in art and music and has great graphic design sense and a solid foundation in web development.
Jay is filling a new position as Project Manager. We have talked with many of our high-volume customers over the past year about expanding our services and resources. We are thrilled to bring Jay Thompson onto our team as our full-time dedicated project manager. Jay has a wealth of project management experience in the technology world. In two weeks he has already made a huge impact in helping us improve our processes for moving projects through more quickly, and working with front-end developers and clients to manage workloads and stay on schedule.
Jay is eager to learn about your businesses and help you strategize and ramp up your plans for a more successful web presence!
Welcome to Adam and Jay!
Read Jay's bio on our site to learn more about our newest team members.
New Location of Our Offices
HEROweb continues to grow! We're happy to announce that our relocation was successful! It only rained a little bit as our crew carried their boxes across the parking lot to our new offices.  The move to a bigger space from Building D to Building A will allow us to accommodate more staff (see our announcement in this issue of two new hires!) and continue to grow our business and services.
Only our physical address has changed--
the new address is 4660 Main Street, Building A, Suite 100-2, Springfield, Oregon 97478. You will still be able to call us at the same phone numbers
.
If you are in our local Eugene-Springfield area, feel free to drop by. We'd love to give you a tour.
Have You Read Our Marketing Bites?
HEROweb's Marketing Bites are weekly emails that suggest short, actionable tips to help you market your business. Of course, they're free to receive, just
add your name to our email list
.
We pull the topics for our Marketing Bites from industry best practices, developments in technology, the world of social media, useful tools and applications . . . all of the things we know that busy business owners and webmasters are interested in.
If there is a topic that you would like us to address in our Marketing Bites, let us know!
Contact us through our
website
or
Facebook page
, where you can post your questions or message us privately if you prefer.
We have a page on our site that archives all of our past Marketing Bites. Recent topics include:
View all of our archive of past Marketing Bites
.
Mobile MightyMerchant Launches
HEROweb and MightyMerchant now have a mobile platform! The mobile website service offers a touch navigation friendly, low bandwidth site optimized for small screen sizes. The sites that load on the mobile devices contain the same content as the regular site but instead appear in the mobile templates.
For the user, the experience is fairly transparent as the mobile site version loads seamlessly and quickly. For the site owner, the site functions transparently as well, as orders that are placed on the mobile version will show up in the site manager as normal--you won't have to re-enter content twice.
We can specify what platforms are treated as mobile. By default, iPad and Android tablet users still access the regular desktop site as such devices are quite capable of browsing normal websites. However, if you as a site owner particularly want to send tablet users to the mobile site, we can do that too.
The mobile website service is available in three packages:
Mobile Basic
provides the quickest way to implement a basic, highly functional mobile website.
Mobile Advanced
provides a custom-designed mobile website that is tailored to mobile devices.
Mobile Custom
offers a a completely unique solution that would be recommended if you planned to integrate your sites with a mobile application, you want a mobile site that is radically different from your desktop site, or you have complex pricing and product options.
For more information, visit our
Mobile MightyMerchant page
or contact us if you have questions!
Recent HEROweb Site Launches
Check out the latest sites to go live!
New Sites

CenturyLightingOregon.com
- Century Lighting Oregon provides industrial and commercial lighting solutions to businesses in the Eugene and Springfield area and throughout southern and western Oregon.
DuckParking.com
-
Boy Scouts Eugene Troop 100 operates this new site, which allows patrons of University of Oregon Duck football games to reserve parking spaces for the season or game.
MyCountryGardener.com
- MyCountryGardener.com is the website of The Country Gardener, a small design/build landscape company utilizing sustainable landscape practices to serve Eugene, Springfield and the surrounding communities in Lane County.
OldhamCrane.com
- For three generations the Oldham family has owned and operated their crane company, providing crane rentals for and heavy hauling services for many different needs on the job. 
RitchieHomesOregon.com
-
Scott Ritchie began as a custom cabinet builder and now serves the Lane County, Oregon, area as a builder of custom homes. 
WorldwideGalleria.com
- Worldwide Galleria is a fair trade retailer that believes the private sector can help to lift developing countries out of poverty. Worldwide Galleria works in partnership with other organizations to import fair trade products from developing nations for resale in developed nations such as the United States.