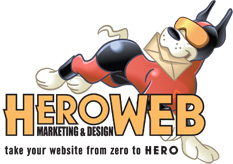 SiteBeat: May 2015
The HEROweb Marketing and Design Newsletter
HEROweb.com · MightyMerchant.com May 2015
Greetings from the team at HEROweb! We are on a roll. A new feature roll, that is. We are continuing to enhance the functionality in MightyMerchant and are excited to share with you some of our new capabilities. Read on to learn about some of our most recent enhancements.
Documentation Update: Order Download
Websites using MightyMerchant v4.6 and up include the Order Download feature. This feature allows you to select a specific set of orders to download, and if desired, to change the order status and download status of the orders you are downloading. The Order Download feature can be a great tool for analyzing your orders, or importing them into a third-party program for accounting or shipping.
Our MightyMerchant support site now includes detailed, up-to-date instructions on using the Order Download feature in your Site Manager. For a complete guide on how to use this feature, please visit our instructions for Downloading Orders.
Featured Solution: Modal Window with Forms
Following the release of our new mobile responsive framework, we have developed many subtle enhancements to the MightyMerchant user interface. One of these enhancements is the addition of forms that display in modal windows. A modal window displays content in front of a webpage, rather than taking the user to a new webpage, meaning that a user can access a form on a product page, fill it out, and submit it without leaving the product page. This makes it easy for the user to resume browsing without having to navigate back to the original page.
If you are interested in adding a modal form to your website, please contact us using our support form.
For an example of a modal form, please take a look at the http://www.abe-online.com product page, and click "Request Quote" to bring up the modal form.
v5 Highlight: Edit Message Link
In an effort to make customizing your website a faster and more straightforward process, we have added Edit Message links to v5 of our MightyMerchant platform. Edit Message links are only visible and accessible for you when you are logged into your Site Manager. Clicking on an Edit Message link on your website will take you directly to the Messages section in your Site Manager where you can edit that message.


In the above example, clicking "Edit Message" would open a page in the site manager where you can edit the "Popular Deals" text
Depending on your site, these messages may include text on account signup pages, messages displaying during the checkout process, and sitewide messages.
If you would like to hide the Edit Message links, simply click the question mark to the right of one of the links, and follow the instructions that appear!
Email Confirmations Now More Compact
In response to a popular request, we have reformatted the layout of our order email confirmations to make them more compact! This means less scrolling and easier reading for all of your customers.
To see an example of a basic condensed order confirmation email, please visit our support site.
New and Featured Sites - May 2015
We are pleased to announce the launch of three new websites!
http://www.travelperks.biz/ - Smith Pollin Group is a travel agency offering savings on cruises, resort and land travel, to destinations worldwide. Their CruiseOne Travel Perks program offers discounts and savings in numerous areas of the trip planning process from booking to insurance.

http://www.graceandglorygoods.com/ - Grace & Glory Goods is a wholesaler offering a stylish selection of jewelry, scarves, handbags, and other accessories.

http://www.retrometalchairs.com/ - If you want to step back in time with your patio decor, take a look at Retro Metal Chairs' new website, which offers a wide selection of chairs, tables, coolers, and accessories in the style of the 1950s.