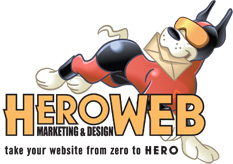 SiteBeat: November 2010
The HEROweb Marketing and Design Newsletter
HEROweb.com · MightyMerchant.com November 2010
Greetings from HEROweb Marketing and Design
As we move into the holiday shopping season, we would like to wish you happiness and success. We hope your site is ready for this busy season, and that the next few months will be busy ones on your site! Remember, we are only a phone call or an email away if you need any help.
Join our 'Name the HEROweb Pup' Contest and Win a $100 Gift Certificate!
We are ready to name our HERoweb mascot and we're looking for the perfect name. Do you have any great ideas? Submit your suggestion by filling out the
Name-the-Pup Form
on our website. If you come up with the winning name, we'll give you a $100 gift certificate to a website of your choice of any online store using the MightyMerchant platform.
Start dreaming of what you would buy with the prize by browsing
MightyMerchant online stores
.
Dive In Designs Customer Update
Last month we announced that HEROweb had acquired Eugene, Oregon-based company Dive In Designs. The transition has been going smoothly. We are currently in the process of contacting our new customers who have joined us with the acquisition. We are doing our best to get to know each of you and meet your individual needs. If you want to introduce yourself, or feel you need some help, please let us know!
HEROweb Welcomes New Hire Barrett Avery
We are excited to report that we are continuing to add key people to our staff. Our newest hire is Web Programmer, Barrett Avery, whose focus will be on advancing features and adding functionality to the MightyMerchant software.
Barret has quite an interesting background.
Read about Barrett
and view photos and biographies of our whole team.
December's Free Webinar
Google Analytics is a powerful tool that allows you to measure your advertising Return On Investment (ROI). Join Michael Stearns for a closer look at how you can use Google Analytics efficiently and intelligently to make profitable decisions for your business.
"Using Google Analytics"
Wednesday, December 8, 2010 at 10:00 am PST.
Reserve your spot today!
Our Latest Work
We had some more sites go live this month. Take a look!
J5Logistics.com
- Public safety equipment, apparel and gear
MiniMeCrafts.com
- Homespun party favors and craft projects that share and teach.
OnlyNaturalSnacks.com
- Eating healthy snacks is only natural
From all of us on the HEROweb Marketing and Design team -
Thanks for checking out SiteBeat. We look forward to helping your online business succeed in meeting your goals this holiday season and in the coming new year!
Makers of MightyMerchant Ecommerce Software - Fast, Flexible and Fun websites for Small Business -