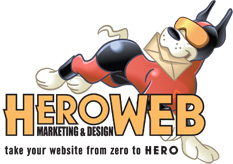 SiteBeat: November 2011
The HEROweb Marketing and Design Newsletter
HEROweb.com · MightyMerchant.com
It's already November and we are gearing up to help
you
gear up for the holidays!
This issue includes a Holiday Prep Checklist, an offer to help you follow through on a New Year's resolution to upgrade your site, and more.
If there is anything we can do to help your site get ready for the holidays, just ask.
New Year's Resolution Upgrade Offer
Start Planning Now For Success in 2012
With the New Year nearly upon us, we know that many of you are thinking ahead to strategies to improve your website in 2012. Why wait any longer?
Through Friday, December 30, we are offering a
New Year's Resolution Upgrade Offer
for current customers wanting to refresh and update their website.
If your site is utilizing any 3.x version of MightyMerchant Ecommerce platform, now is a great time to upgrade to the newest version 4.
1
. Sign up anytime in December to add a new advanced feature such as user accounts, gift certificates, sale and coupon manager or one of the many other advanced features we offer—
we'll implement the new feature in January and we will upgrade you to the most recent version of MightyMerchant Ecommerce Platform for free. *
Our most recent version has some
great features and improvements of existing features
.
2. Already using the most current version of MightyMerchant?
Sign up for Bing, Shopzilla, or other managed shopping feed service and we will waive the $150 set-up fee.
3. Ready for a complete site makeover?
Sign up for a site makeover between now and December 30 and receive three months free site management and hosting fees
. **
4. We also want to help out our customers who are excited to get going with blogging
. Sign up for a Wordpress blog and receive free blog setup, a $150 value.
5. Sign up for a PPC advertising campaign
, and we will do our customer A/B testing implementation on your site for free, a $250 value.
6. Want to roll out a customized Facebook fan page?
We'll do the set-up work for 50% off.
Sign up between now and December 30 to have us perform the upgrade or installation of features on your site in January. Not sure how you can take advantage of this offer? Just call and ask. Contact us today
by email
or by phone at 541/746-6418 (Eugene-Springfield, Oregon-area)or
toll-free at 1-888-257-2567
to discuss what would work for your site.
*  Additional costs may apply if your site includes custom programming (see the custom programming section in this newsletter for more information about this.) .
** Not available to dedicated or semi-dedicated service accounts. Contact us for details.


Holiday Prep Checklist
Create a schedule or calendar of key dates in the upcoming holiday shopping season to keep your holiday marketing and advertising messages on track.

Examples:
Nail down your home page holiday messages
Update/clarify your shipping policies, if necessary
Black Friday (November 25)
Cyber Monday (November 28)
Shipping cut-off date to guarantee holiday arrival
Communicate with customers through email and your social media channels about upcoming sales

Communicate with customers through email and your social media channels that sales are happening
Communicate with customers through email and your social media channels that sales are ending
HEROweb's
Holiday Prep Checklist
offers advice on how to structure this calendar as well as a simple holiday prep checklist to make sure you address everything you need.
Sale Manager Features
The new MightyMerchant Sale Manager launched in August. We are proud of this easy-to-use tool that gives you product-level control over coupons and sales on your site. The MightyMerchant Sale Manager includes a variety of options to customize your sale (duration of the sale, one-time coupons, sales on individual products, and more).
Custom Programming Information
Most of our customers, perhaps 95% of you, don't have custom programming on your site, so this announcement is not something you will need to be concerned with. Your initial website project proposal will indicate whether your site includes custom programming. If you are not sure, just ask us.
For those of you that do have custom programming on your site, we have created a page that defines some of the parameters for how we deliver custom programming services.
HEROweb's Custom Programming
page offers examples of custom programming as well as some of the costs that are involved.
If you have any questions about what kinds of custom programming we can offer or how your site might benefit from a custom solution, just ask. 

Welcoming New HEROweb Customers
Check out the latest sites to go live!
LuminarePress.com
– A resource to guide you through the maze of self-publishing options. Print your novel, memoir or cookbook and share it with an established print-on-demand network.
Bokays.com
(The Flower Market) – Fresh flowers, bouquets, arrangements and local delivery from Eugene, Oregon's The Flower Market.
Learning Services has added another special contract site to its family of websites selling educational software.