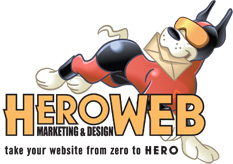 SiteBeat: November 2012
The HEROweb Marketing and Design Newsletter
HEROweb.com ∑ MightyMerchant.com SiteBeat November 2012
This month, we're excited to announce our inaugural ThanksGIVE-a-way, where ten lucky customers will each receive a $20 gift certificate! It's our way of saying "thanks" for your business. Read below to learn how to win, but don't stop there! Our November issue features other goodies, including tips on tapping into mobile, secrets of holiday marketing success, and our new help desk system, which was implemented to serve you better.
Tap Into Mobile
Developing a mobile site is easier than you think. In three simple steps, you can be well on your way to establishing a mobile presence for your customers on the go.
Step 1: If you havenít already, view your existing website on a mobile device.
Do you have a site that was designed for desktop computers? If so, your customers will need to pinch and zoom in order to access content, browse through your site, subscribe to communications, and enter orders. Often, that can be a frustrating experience for your users. Instead, you can have a mobile-optimized version of your site that will invite your customers to tap and scroll in an easy-to-navigate environment. If you are curious what your site looks like on a mobile device, and are not yet an official mobile geek with your own smartphone or tablet, you can use
Opera's FREE Mobile Emulator
, which allows you to preview how your website is rendered on mobile devices - all from your desktop computer!
Step 2: Check your mobile traffic.
If more than 10% of the overall traffic to your site is coming from mobile devices, you should strongly consider developing a mobile website for your customers. Check out a
short video tutorial
on tracking your mobile traffic using Google Analytics to find your percentage.
Step 3: Contact us to find the solution that works for your unique business needs.
Mindy and Nekhia are standing by to discuss how we can help you achieve your goals.
Visit HEROweb's current mobile offerings and contact us today!
Already set up on mobile? Take advantage of MightyMerchantís features to offer mobile-only specials!
Check out our blog post, "Confessions of a (Mobile) Shop-a-holic".
Participate in HEROweb's ThanksGIVE-a-way!
During this season of reflection and gratitude, the staff at HEROweb would like to thank our loyal customers for their business. As a small token of our thanks, we're offering $20 gift certificates to 10 lucky customers!
Enter now
by filling out our simple contact form for your chance to win!
From the bottom of our hearts, thank you for your business. A happy and safe Thanksgiving Holiday, from our family to yours!
Complete our Entry Form before 11/23 at 5pm Pacific Time. (One entry per person.) A certified HEROweb staff member will draw 10 winners out of the official HEROweb sweepstakes baseball cap.
8 Tips for Holiday Marketing Success

What's better than 7 tips on successful strategizing for your holiday marketing? Why, 8 tips, of course!

It's not too late to ramp up your marketing to make the most of the holiday shopping season. Check out HEROweb's most recent article about holiday marketing, "8 Tips for Holiday Marketing Success".


We also wrote an article about Holiday Shopping Prep back in September. Read that article, "Holiday Prep Checklist"

Announcing HelpScout, Our New Help Desk Solution

At HEROweb, we're continually looking for ways to deliver superior service to our customers. In that spirit, we are excited to announce our adoption of Help Scout, a streamlined, elegant customer service management system.

We have reviewed many help systems and selected Help Scout because it keeps things very simple for our customers. You just need to remember one simple rule: send your support requests to webhelp@heroweb.com. If you are used to emailing your HEROweb developer directly, please switch to the webhelp@heroweb.com address. Help Scout will allow us to assign the tasks to the best person on our staff to help you.

Our goals with Help Scout are to deliver support more timely and efficiently and get your support requests to the right person who can help you. We have been using Help Scout for the past month. We hope you have noticed a positive difference!

Welcoming New HEROweb Customers, Redesigns & Mobile Sites

Check out these great new additions to the HEROweb family!

New Sites
Lalapatoot.com - Home decor items and children's shoes and toys find equal placement alongside jewelry and felted wool cat beds, greeting cards and gift certificates. With the great mix of eclectic, fresh items, we are planning to do some of our holiday shopping on this website.

Mobile Sites
HEROweb mobile sites are tested on a range of devices and operating systems, including Android, iOS and Windows Mobile.

DaytonaHelmets.com - You might be amazed at the range of motorcycle helmets you can find at Daytona Helmets! We are excited to launch a mobile-optimized site for DaytonaHelmets.com this month. We are doubly-excited to see an immediate flow of orders from the mobile environment. Point your smartphone at the website to see what the HEROweb mobile experience is all about. And then you can go to the same url on your desktop machine to compare the two versions of the site.

Redesigned Sites
ChromePickup.com - Chrome Pickup had a solid website, but when you are competing in the Truck Accessories market, you need to make a bold statement! The new Chrome Pickup site has many MightyMerchant bells and whistles and provides an easy-to-navigate experience through thousands of parts and accessories.

ImagineGroup.com - The Imagine Group, Eugene's pre-eminent visual graphics and photography provider, is continually evolving their business in creative ways. This year, we have been working with ImagineGroup to consolidate their four full-featured websites into one killer site. HEROweb worked closely with Erika and her staff at ImagineGroup to help them realize their vision for a new online presence. Have a look at the new site and see what you think!

CharismaSkin.com - Charisma Skin offers fine skin-care products, anti-aging products,makeup and spa services near Portland, Oregon. The new site is clean and professional, with a look that rivals that of the big-name brands.

EducatorsTravel.com - A travel network for educators that looks inviting and trustworthy. We celebrate a re-design of the VERY FIRST HEROweb customer's site from back in the days when Staci and Michael ran the business out of their basement.