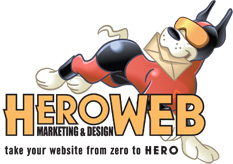 SiteBeat: November 2015
The HEROweb Marketing and Design Newsletter
HEROweb.com · MightyMerchant.com November 2015
If you have been eagerly checking your inbox, wondering what happened to SiteBeat last month, the wait is over! We skipped a beat in October, but we are back on track with some exciting news, tips, and updates. We hope this newsletter provides you with some valuable information.
New v5 Feature: Our New Beacon Support Request Button
If your site is on MightyMerchant v5 you may have noticed that a new blue button has popped up at the bottom right-hand corner of your website's pages.æ


Pictured above: Our new Beacon support request button
This button is only visible to you when you are logged into the Site Manager, and it offers handy access to a simple support request form that you can submit quickly, without ever leaving the page. Information submitted with the Beacon is delivered directly to our WebHelp support system so we can investigate your issue. If you encounter an issue on your site, please use the Beacon!
Tech Tip: Setting Your Web Page Addresses
One of the most important parts of managing your website is specifying your web page addresses.
The good news is that the MightyMerchant Site Manager will automatically generate web page addresses for you. The better news is that you have the ability to control your web page addresses and this is an important feature for you to understand. The main reasons for tuning your web page addresses are for SEO (search engine optimization) reasons and to have page addresses that are concise, easy to read, and easy to share.
For detailed instructions, please visit our support center and read Setting Your Web Page Addresses.
Using 3rd Party Email Accounts
One tech support area that sometimes proves challenging is helping customers who are having issues receiving their orders at email accounts hosted by other providers, such as Yahoo, AOL, and Google.
These providers are constantly looking for ways to cut down spam that reaches their system. In doing so, they regularly adjust the filters and rules they use for screening email traffic. Occasionally these adjustments will impact the delivery of email from our system.
To ensure successful delivery of your order emails and website inquiries we recommend the following:


Instead of receiving mission-critical email at a third-party provider, set up an email account with HEROweb (which is included with your monthly service) and we can ensure the delivery of your website emails.
If you use a third-party provider, set up any available filters with your account to ensure all orders and contact submissions from your website are not marked as spam.
Periodically submit a test inquiry from your website to verify that mail is flowing correctly.
We will always do our best to ensure that messages are successfully delivered from our servers; this is a process that does involve ongoing adjustment.
Documentation: Turning on Google Analytics Ecommerce Tracking
A simple step you can take to analyze the success of your website is to utilize Google Ecommerce Tracking, which is a feature incorporated into Google Analytics. We notice that many customers do not have this feature turned on in their Analytics Account.
Well, don't miss out on an opportunity for some useful data! Just follow our instructions onæEnabling Google Analytics Ecommerce Tracking.
New Sites and Mobile Redesigns

We have an interesting mix of new websites and site redesigns this month which really demonstrates the diversity of our customer base. We are proud of the work we have been doing, and invite you to take a moment to check out some of the members of our website family.

Early Assessment and Support Alliance -æ
http://www.easacommunity.org/A regional support network providing resources and services to young people who are experiencing psychosis.

Architectural Millwork -æ
http://www.archmillwork.com/A stock and custom wood molding and paneling manufacturer based in Eugene, OR.

US Balance -
http://www.usbalance.comA wholesale distributor of specialty scales. You will be amazed at the wide range of specialty applications for scales!

Heartwood Carving -
http://www.heartwoodcarving.comA producer of quality decorative wood and trim carving for home decor. If you visit Heartwood's site gallery you will see some of the work they do is truly amazing.

Chocolate Covers -
http://www.chocolatecovers.com

A vendor of custom wrappers for chocolate bars and other snacks. Their site showcases a variety of uses for custom wrappers, from advertising businesses to celebrating weddings.

Lucky Lucy -
http://www.luckylucy.boutique
A retailer of unique clothing and accessories, ranging from necklaces and handbags to ponchos.

City Grafx -
http://www.citygrafx.com
A creator of signage for restaurant, hotel, and retail marketing, as well as vehicle stickers, products for the public safety sector, and more!