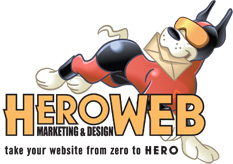 SiteBeat: October 2009
The HEROweb Marketing and Design Newsletter
HEROweb.com · MightyMerchant.com October 2009
Greetings from HEROweb/MightyMerchant

November is just days away but it's not too early for the team here at HEROweb/MightyMerchant to begin offering some Christmas-like deals to our family of clients.

The holiday season can be a hectic time and we want to ensure that your eCommerce business runs smoothly (and profitably!).

As such, read on for new offers and of course helpful tips and other special announcements.

And as always, thank you for reading SiteBeat!


New Vehicle Wrap!
In an effort to further promote our outstanding services, we're taking our marketing efforts to the streets!

A special thanks to our friends at The Imagine Group for their outstanding work!
Refer a friend to HEROweb/MightyMerchant
Our biggest Referral Offer continues

Announced just last month, don't forget about our latest referral offer:

If a customer you send signs up for our site development services and maintain an active site for a minimum of two months, we'll credit your account for $250. It's that simple!

If you refer us a customer please let us know in advance so we may be on the lookout for their call.
Site Update Service
While one of the many benefits of working with HEROweb/MightyMerchant is the MightyMerchant platform and its incredibly powerful site management system, we understand that many of you may be too busy to make all the necessary continuous updates to your site.
If this is the position you find yourself in, you'll be pleased to hear that we are announcing a new Site Updating service!
For only
$30/hour
, almost half our normal design rate, we can make text or image updates; changes normally made by users through their respective site manager.
So the next time you are short of time and have some changes that have to be made, give us a call to lend a hand!
And speaking of site changes, check out the new
MightyMerchant Blog
design.
Promote Your Products on Google's Shopping Engine
Everyone's heard of Google but you may not have noticed that Google has its own shopping engine, called Google Product Search.
As one of the most shopped sites on the web,
Google Product Search
is a great place to list your site's products!
Also, by submitting your products there and landing in the top three spots for a popular search, your product may then appear on the front page of Google.com.
For example, check out the
shopping results
for Hacky Sacks here on Google.com.
Want to advertise your site's products in Google Product Search? Contact us today to find out how.
Upcoming Speaking Engagements
You still have time to catch some great presentations by Michael Stearns, CEO and co-owner of HEROweb!
Internet Marketing Made Simple
Two FREE 90 minute sessions to be held at the Springfield Chamber of Commerce - each focused on an key aspect of marketing your business online.
10/29 - Ten Steps to Marketing Your Website
5:30pm-7:00pm
11/12 - Blogging To Boost Your Business
11:30am-1:00pm
Fraudulent Order Reminder
With increased traffic and sales volume during the holiday season, now more than ever is the time to watch for the possibility of fraudulent orders.
One telltale sign of a possible occurrence is a larger-than-normal order amount with different bill-to and ship-to addresses.
Check out one of our
previous articles
for more information and how to avoid falling prey to these rare but potentially damaging order instances
Live Chat - Looking for a Beta Tester
Want a chance to provide your clients with the ability to connect directly with your organization before they abandon their shopping cart?
We are looking for a site to try out Live Chat free for a limited time, where you can invite shoppers to chat live with a representative to assist with questions during their shopping process.
Give us a call for more details!
Welcoming New HEROweb/MightyMerchant Clients
And finally, we would like to welcome our new customers whose sites have gone online in the past month.

Coilshoesoregon.com - Quality Pain Relief Footwear in Springfield, Oregon

Am-living.com - Historical Reproductions and Unique Home Decor

Imaginefleetgraphics.net - Quality vehicle graphics, from logo markings to partial or complete vehicle wraps.

The-imagine-group.com - Premier graphics services provider for businesses and organizations in the region.

Klassenrepairs.com - Service for your brasswind instrument, with quality craftsmanship.

Thanks for checking out SiteBeat. We value your business and look forward to hearing from you about how we can serve you better.

Thank you, from all of us here on the HEROweb/MightyMerchant team!